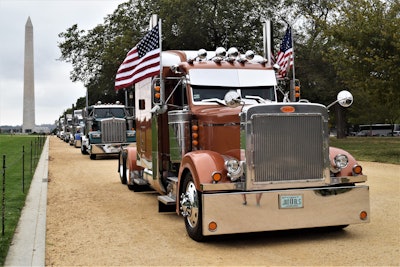 No, it's not an e-log exempt unit. "I checked with three different dealers," owner-operator Ruben Carrion says, to determine (and determine yet again, and then triple-check) the in-service date of the (yes) 2000-model Caterpillar motor he rebuilt about four years ago. Unlike many of the other independent owner-ops he knows with 2000 model year trucks, his engine was in fact a 2000 and thus didn't qualify for the ELD mandate's pre-2000 exemption.
But he committed, nonetheless, to a custom-restore of the unit he took about three months off for early in 2018, spending around $18,000 on custom cab extenders, new fenders from Talladega and all manner of bright parts — replacing most everything but for the breathers and mirrors, which were polished back to like-new. That figure included professional repainting of the unit, which he's owned since it was new, running with his own authority and working for more than a decade with the Rite-Way broker of Jefferson City, Mo., keeping him loaded back toward home in Kissimmee, Fla. From there, he'll load out to the Midwest often from Georgia or Alabama, hauling with his 48-ft. flatbed.
In the video of above, you'll hear part of a conversation about the truck and his business recorded when I caught up with him on the National Mall in Washington, D.C., during That's a Big 10-4 on D.C. two weeks back. Carrion's two-decade-old trucking business follows a variety of work over the prior years, some trucking, after part of his childhood was spent in Panama, where he was born. He's been in the United States all told for nearly four decades now. Hear more of his history, and catch plenty views of the truck, via the vid above.