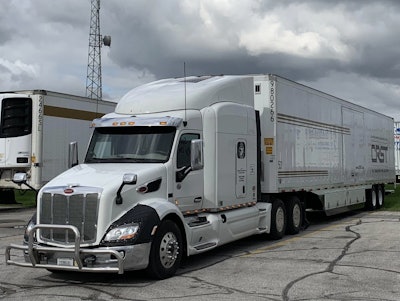 This 2018 Peterbilt 579 is owned by Brian Sheehan, owner of Sheehan Specialized Transport out of New Haven, Indiana. He bought the rig, which features an 80-inch sleeper, at JX Peterbilt in Fort Wayne, Indiana, in July 2018. The truck is powered by a 515-hp Paccar MX-13 with a 13-speed Eaton-Fuller UltraShift Plus Autoshift. Sheehan uses the rig to pull a 53-foot Kentucky Trailer with full belly boxes and a lift gate for Specialized Transportation Inc., out of Fort Wayne, hauling high-value electronics such as large medical equipment and servers for data centers.
He has made a number of additions, including an all-extric Tripac Envidia APU with two solar panels, Tuff Guard II deer bar, stainless steel aero wheels from RealWheels, Phoenix Industries cab and sleeper bars with LED lighting, TireTraker TT-500 tire pressure monitoring system, a 13-inch iPad Pro permanently mounted in the overhead for navigation, custom pull-out sink and toilet Sheehan built himself from yacht parts, custom cabinets he also built himself, custom fender covers made by Bug Screen Man in El Paso, Texas, and a 4K camera system from BlackVue that covers four perspectives of the truck.
Click here to see more photos of reader uploads or to submit your own.