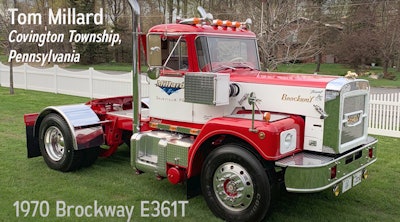 The American Truck Historical Society held its annual convention and truck show in a virtual format in late May.
In the videos below, get a view of a number of trucks from 1969-1975 that participated in the truck show portion of ATHS' virtual event.
One truck featured in the first video below is a 1970 Brockway E361T that was originally purchased by Sears Oil in Rome, New York. The current owner, Tom Millard, and his father restored the truck over a seven-year period. The Millards added power steering and air ride during the restoration.
A rig featured in the second video is a 1972 Peterbilt 282 cabover owned by Ken Joiner, out of Wasco, California. Joiner bought the truck and completely restored it, adding an NTC 450 Cummins with a 13-speed and 3:70 Rockwell rears. He still runs the truck today hauling hay.
The final video features a number of trucks, including a 1973 Peterbilt 359 owned by Richard Legard, out of Pearisburg, Virginia. He purchased the truck in 2000 and has since restored and painted it. It has been stretched to a 290-inch wheelbase and features a Cummins NTC BC III with a 13-speed and 3:55 Rockwell rears.
ATHS created 23 videos spanning 118 years of trucks, starting with a video showing trucks from 1902 to 1929 and ending with one that includes trucks from 1996 to 2020. In total, more than 1,400 trucks participated in the event.
Stay tuned to the Overdrive's Custom Rigs newsletter each week for a decade-by-decade look at the trucks that took part in ATHS' virtual truck show, or check out all 23 videos on YouTube.