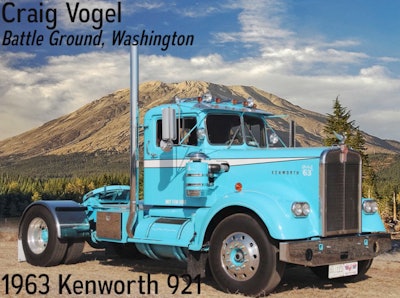 The American Truck Historical Society held its annual convention and truck show in a virtual format in late May.
In the videos below, get a view of a number of trucks from 1963-1968 that participated in the truck show portion of ATHS' virtual event. You can also catch views of trucks from the 1960-1962 in last week's post.
One truck featured in the first video below is a 1963 Kenworth 921 that was purchased by Battle Ground, Washington-based Craig Vogel in 2014 from its original owner. The truck pulled doubles loaded with export lumber from mills in Oregon to the ports in Portland and Seattle. The rig has been restored to mostly original condition except for the newer engine and transmission.
A rig featured in the video from the second half of the decade is a 1966 Peterbilt 351 owned by Kevin Cimmiyotti, out of Vacaville, California. He has owned the truck for 16 years. It features a Cummins Big Cam 400 with a 15-speed. It also sports a 1992-model 110-inch Double Eagle sleeper.
The group created 23 videos spanning 118 years of trucks, starting with a video showing trucks from 1902 to 1929 and ending with one that includes trucks from 1996 to 2020. In total, more than 1,400 trucks participated in the event.
Stay tuned to the Overdrive's Custom Rigs newsletter each week for a decade-by-decade look at the trucks that took part in ATHS' virtual truck show, or check out all 23 videos on YouTube.