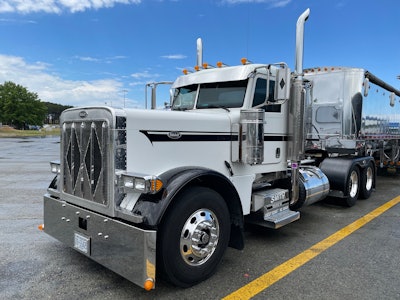 As one of the first truck shows to be held in-person since the COVID-19 pandemic began last March, the Kenly 95 East Coast Jamboree in Kenly, North Carolina, welcomed the most contestants in the show's eight-year history, organizers said.
All of the 40-plus trucks in attendance were worthy of recognition, but winners were selected in some 17 categories.
Brandon Smith's 2006 Peterbilt 379 EXHD and 2006 Mac trailer was the big winner – driving away with Best In Show honors, the Best Paint title, and first in the tractor/trailer combination class.
[Related: Faces of Wildwood -- the Kid, the Old Pro and the Builder at the 75 Chrome Shop Truck Show]
In addition to the categories below, Teel Trucking won the Kenly Konvoy award for having the most trucks in the show. The Tarboro, North Carolina-based carrier had five trucks entered – a 2001 Peterbilt 379, a 2002 International 9900, a 2007 International 9900i, a 2006 International 9900ix, and a 2002 International 9900i.
The winner of Best Interior, Daniel and Phyllis Snow's 1996 Freightliner Classic XL, "The Goose," was also first runner up for Best in Show. Last year, the truck won the Working Combo, 2015 & Older class in virtual Overdrive's Pride & Polish. The truck features a 140-inch sleeper, and Daniel estimates that the truck has more than 9,000 lights on it.
Photos of the winners can be seen here: