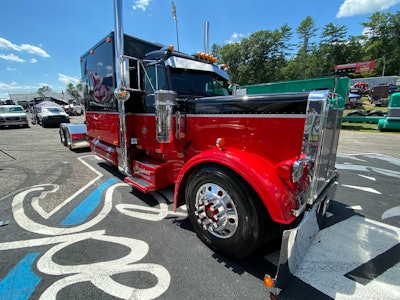 Alex Lockie for Overdrive
Pennsylvania-based Arien Ruell keeps the grease on the fifth wheel of his 1993 Peterbilt 379 when he shows it. Otherwise, he says, nobody would believe it actually works hauling overweight, sometimes oversize steel loads on a flatbed, among other freight.
Indeed "Ten Dimes," Ruell's custom rig, does seem a little too perfect to lead such a tough life. But this hot July day at the 5th annual Gear Jammer Magazine Truck Show in Keene, New Hampshire, things needed to be perfect. Ruell proudly spoke to Overdrive about his truck just hours before he was set to marry a trucking colleague's daughter at 7 p.m. on a stage in the middle of the Monadnock Speedway -- his suit hung pressed and ready inside the sleeper.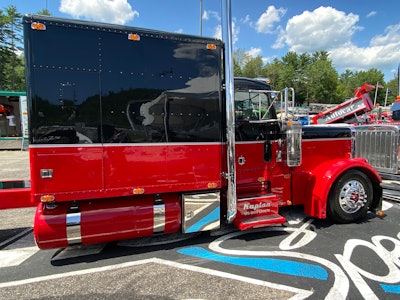 "I bought this truck in 2014," he said. The rig was "green with a baby-puke stripe and a 252-inch wheelbase." He and his now father-in-law "eventually turned it to 327 inches." The Double Eagle sleeper that filled out the long wheelbase came from another close family relation, in what was actually the running theme of the truck.
"The whole outfit, when I'm full of fuel and freshwater, I'm 36,500 pounds," he said. Ruell's rig is powered with an 800 hp Caterpillar 6NZ, replacing the original mechanical motor and which he finds especially useful hauling overweight to and from his typical stomping grounds around Kentucky, Indiana and Ohio.
The entire rig had a lot to offer, with custom paint and pinstriping, broadway lights down the side of the sleeper, and no shortage of chrome.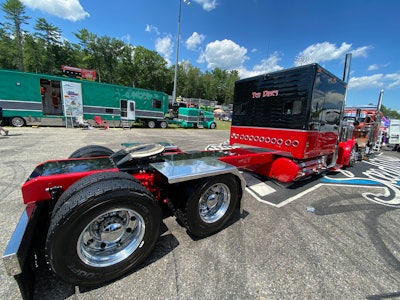 But asked about his favorite part on "Ten Dimes," Reull gave a thoughtful but unusual answer that invoked one of history's most notorious gangsters and his own love of his trucking family.
"I just love the way the whole truck came together," he said. "My favorite part of the truck is not even the truck itself, it's the relationships built. That's why it's named 'Ten Dimes.' Al Capone said 'four quarters are better than 100 pennies,' and I'm fortunate to have ten dimes.. Ten really great people in my life who helped out.
"I'm blessed. People overuse that word, but really I am," he added. As for getting married at a truck show? "That was her idea," he said. Blessed indeed.
[Related: 'Never Satisfied' ultra-custom 1999 Freightliner a 'poor man's Peterbilt']
---
For custom-equipment features delivered to your email inbox weekly, subscribe to Overdrive's weekly Custom Rigs newsletter via this link.