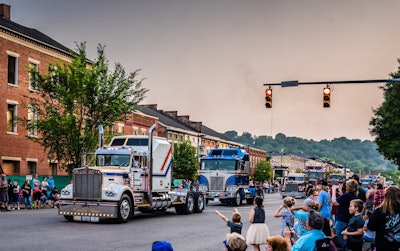 Photos courtesy of Kenworth
The Kenworth truck assembly plant in Chillicothe, Ohio, recently held its second annual Kenworth Truck Parade in downtown Chillicothe -- this year paying tribute to Kenworth's 100th anniversary.
The 2023 Kenworth Truck Parade featured more than 50 new, classic and customized Kenworth trucks, including models built in the 1920s and '30s, a 1976 Bicentennial W900 VIT-200, two Liberty Edition Kenworths -- a K100 Cabover and W900 Conventional -- a 1984 W900B from Australia, and Kenworth's 100th anniversary Signature Edition T680 and Limited Edition W900 trucks. A T680, recently delivered to Heartland Express and representing the milestone 750,000th truck produced at the Kenworth Chillicothe plant, also participated in the event.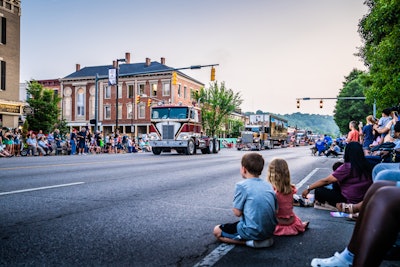 To commemorate Kenworth's 100th anniversary, the trucks featured in the parade started with those built in the 1920s and followed chronological order ending with trucks built in 2023 to showcase Kenworth's history and advancements throughout the years. Drivers from across the U.S. and Canada traveled to Chillicothe to showcase their trucks in the parade. The parade began at dusk, allowing drivers to show off their lights as they made their way through the historic downtown area of Chillicothe.
"After a successful inaugural Kenworth truck parade last year, this year's event was even bigger and better as we continue to celebrate Kenworth's 100th anniversary," said Jack Schmitt, Kenworth Chillicothe assistant plant manager. "It was great to see trucks dating back to the 1920s when Kenworth first opened its doors, to our latest models, many of which are built here in Chillicothe. The event would not be possible without the engagement of our Kenworth Chillicothe planning team, the drivers who came from near and far to show off their rigs and the city of Chillicothe for coming out to support the parade."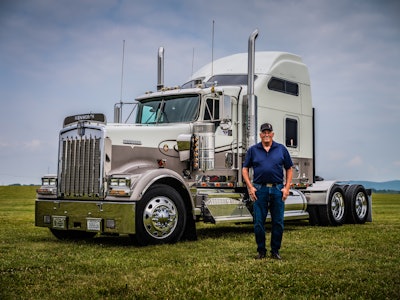 The same trailer from the 75th anniversary, also owned by the Koenig family, was recently reimagined and is being used during this centennial year as a mobile history exhibit to celebrate Kenworth's 100th anniversary.
"My father Al was a big Kenworth fan and history buff, and he passed along his passion for Kenworth trucks down to me," said Koenig. "It was fun to tour the plant and meet other Kenworth enthusiasts at this event. There were some really great looking trucks at the parade this year, including vintage trucks built when Kenworth first got its start."
[Related: 'A real truck driver's truck': The first 100th-anniversary Kenworth W900L Limited Edition]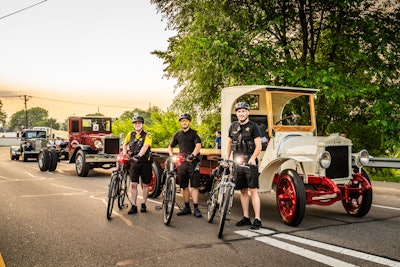 The Kenworth Chillicothe plant, which opened in 1974, is located on a 120-acre site 50 miles south of Columbus, Ohio. The 622,000 square-foot plant features advanced manufacturing technologies, including robotic assembly, and a state-of-the-art paint facility that utilizes the latest technology in the industry. The multi-level paint facility went into production in October 2021 and is equipped with bell spray head technology to improve both appearance and transfer efficiency of the paint, Kenworth said. In 2022, the plant received two Manufacturing Leadership Awards for its new Kenworth Paint Facility and Henrob Error Proofing project from the National Association of Manufacturers.
[Related: Kenworth celebrating 100th anniversary with limited-edition W900 and much more]