Darrell Estes of Class Act Trucking out of Danville, Kentucky, I met this past week at the inaugural edition of the Large Cars and Guitars truck show in Kodak, Tennessee. Longtime owner-operator Estes, who hauled long-distance coal out of Eastern Kentucky north in the 1990s and earlier, then rebooted his business in 2014 with a Peterbilt 359 he's since retired, was showing off another pair of 359s he's put quite a lot of work into the last several years, even as he's operating a heavy coil-hauling business.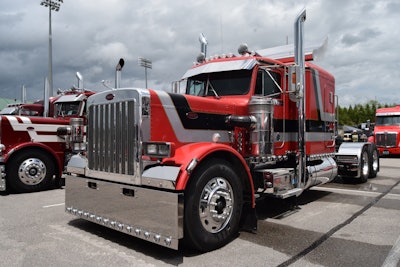 For the mechanical Cat, too, Estes waited out the owner, who'd rebuilt the engine in total and had it sitting in his shop with intentions to put it in another truck for upward of a year. Estes came along with his plans at the right moment, getting an agreement with the owner to sell the 3406C to place in this rig from the last year Peterbilt made the 359.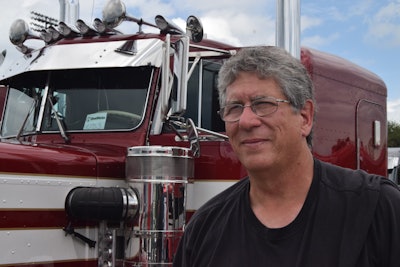 The rig's been stretched from a 250-inch wheelbase to 292, and "big-holed" in the interior for more room between the seats and sleeper, as has the other 359 he was showing, a more fully complete build that Estes had originally intended to run. Getting it finalized in the custom shop of Jamestown, Tennessee-based hand Ronnie King, though, he weighed the pristine piece of history against the rugged nature of the work he does and decided against hauling with it.
It's a beauty, that's sure.
Both of Estes' 359s are outfitted with 18-speed transmissions after having come new with 15-speeds. Both also feature the "big hole" treatment at the sleeper opening on the interior. You can catch plenty about both in the video up top.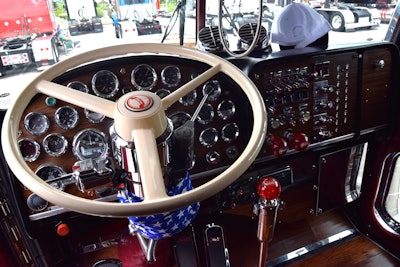 The Large Cars and Guitars show wrapped up with music Saturday, May 7, after collecting well upward of a likely $20K all told, when the counting is done, said show organizer and trucker-songwriter Tony Justice. That amount will go directly to benefit the Susan G. Komen Foundation for breast cancer awareness and research, the show's ultimate mission.
Considering the Friday auction alone, Justice noted, nearly $16,000 was raised, and the owners of White Pine Paving of Maryland with their breast-cancer-awareness Ribbon Runner dump donated $1,500 worth of proceeds from t-shirts and other sales at the show directly to the cause. Added to that figure will be all the show-registration donations from 106 truck owners registered, all told.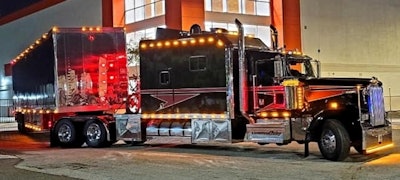 All in all, despite off-and-on inclement weather for much of Friday and parts of Saturday, Justice feels the event was a huge success. Given a variety of sponsors were able to cover costs associated, the donation totals from truck owners participating and in the auction are made all the bigger. That was Justice's mission to begin with. Kudos to the team and all who attended for carrying it through to the end.