Transcript
Wendell, North Carolina-based small fleet Privette Transport owns this 2018 Kenworth W900, piloted by company driver Chase Hedgepeth.
Hedgepeth showed the W9 at the 2022 Mayberry Truck Show in Mt. Airy, North Carolina, where it was recognized as a "Top Notch 10" truck -- one of the 10 best from the states of North Carolina and Virginia. On the step deck it was hooked to at the show, the operator also showcased his sharp, lifted 2014 GMC Sierra.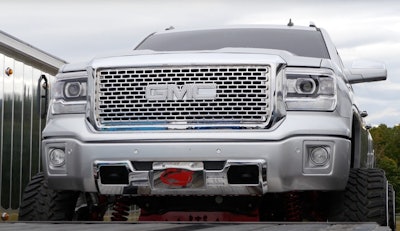 Hedgepeth and company haul a variety of freight, ranging from aggregates to equipment to mulch and more.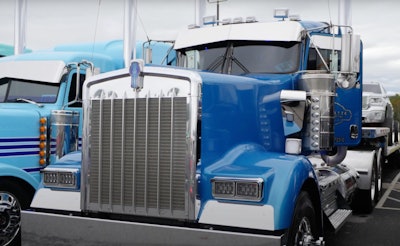 The truck sports a 565-hp Cummins X15 with an 18-speed and 3:91 rears.
Hedgepeth has been driving the truck for about two years, working on it slowly over time and cleaning and polishing daily to maintain its profile.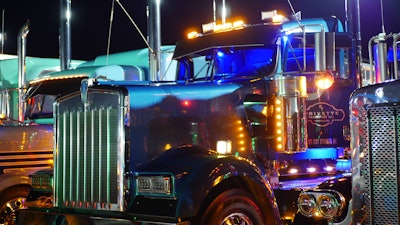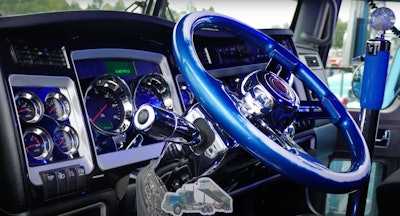 ---
Catch plenty views and more in the video up top, and for more video work and custom-equipment features delivered to your email inbox, subscribe to Overdrive's weekly Custom Rigs newsletter via this link.
Transcript
Chase Hedgepeth: It's a normal working truck. We work it Monday through Friday, so we try to keep as clean as we can.
My name's Chase Hedgepeth. I work for Privette Transport out of Wendell, North Carolina. I mean, really, we haul haul really everything, but I normally haul sand, stone, rock, normal aggregates. We also haul equipment. We haul mulch, pretty much anything you can think of we have a trailer that can haul it. This is a 2018 Kenworth W900. It's got the X15 Cummins, 565, 18-speed transmission. It's got 3:91 rear ends. That's actually a custom logo I got made. From the factory it's actually red, and we put those decals over top of it and make it blue to match the truck. Before the show, we put a new bumper on it, new fender guards. We've also put visor on it. We put the breather shrouds on there. We gave it a good polish. Just try to clean it up for the truck show.
From the factory, all the lights were red and amber and we changed all the lights over to clear. So when they're off, they all look the same. But when you turn the truck on, they glow amber and red. And we also added amber lights underneath to give it a nice glow at night. Lights up the whole underneath of the truck. For the interior, it's mostly stock. We just added a few chrome accessories on the inside. Put a low base seat, but for the most part inside, just simple and clean. We haven't got to the inside, done much of that yet. And behind me, I'm pulling a step deck with my pickup truck on the back.
That's my 2014 GMC Sierra. It's got a 7-9 FTS lift on it. It's got 26 by 14s on it with 35s. That's my other truck I love to work on too if I'm not working on this one. No, it ain't got a nickname. I guess you could just call it Big Blue.