Transcript
La Salle, Colorado-based So Low Transport owner Mark Aragon and his son Payton showed their impressive 2003 Peterbilt 379 EXHD at the 2023 Shell Rotella SuperRigs working truck show in Gillette, Wyoming, where it was named first runner-up in Best of Show.
Mark drives the rig locally within about a 250-mile radius, hauling fat cattle for JBS out of Greeley, Colorado.
Mark and Payton built the truck together, with Payton coming up with most of the rig's design apart from the color. The bright green paint scheme is a candy green from House of Colors, Mark noted. The truck started out as a day cab, then the pair went to work.
"We were hauling cattle with it and I told my dad, 'Dude, we can't keep rolling around in this, not lame, but this day cab, we've got to make it cool,'" said Payton, who was 14 at the time of SuperRigs in June. So they found a 72-inch stand-up sleeper and got a conversion kit from Talladega Fiberglass to make it into a flattop.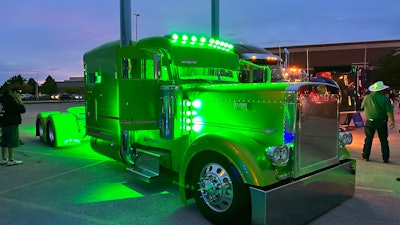 The truck's nickname, "Slammed Distraction," comes from a conversation Mark had with Payton about the air ride suspension Payton insisted on.
"My dad was telling me, 'Man, you want this truck so low,' because I told him we had to put that air ride kit on, 'whenever we have to take a corner, we've got the low fenders,'" Mark told Payton, so "you have to just hit so many switches and you have to overinflate the rear. This thing is so slammed when you're driving it's just a distraction."
The truck's bright green paint can be a lot to take in, too. To break it up a bit, the Aragons worked with Kyle Cook at Eaton Paint & Body in Eaton, Colorado, and pinstriping specialist Beth Kearney, owner of Lil' Dame Stripes out of Loveland, Colorado. Kearney painted the gold leaf stripes down the side of the rig, as well as all the pinstripe work.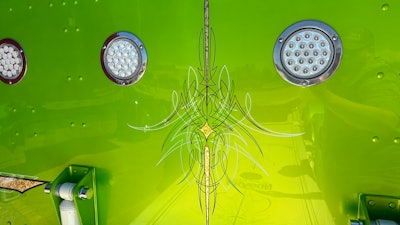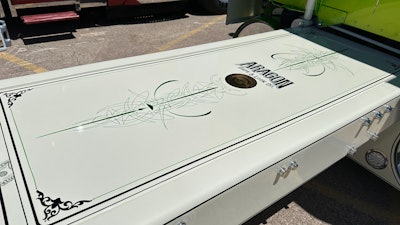 The interior, as seen in the photos below, is also fully customized with a floor from 4 State Trucks painted to match the exterior, button-tuck upholstery, a painted dash and much more.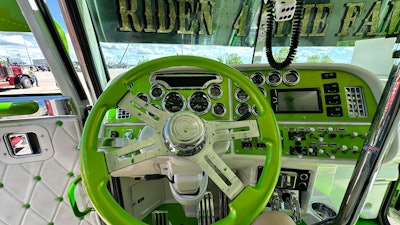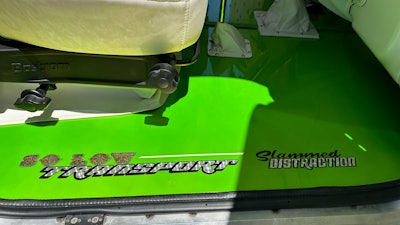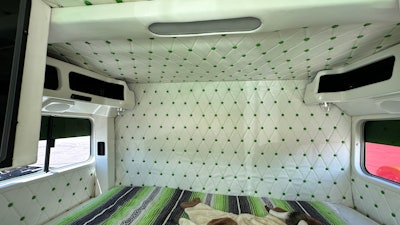 The truck still boasts its original Cat C16 with an 18-speed and 3.55 rears. It sits on a 317-inch wheelbase.
[Related: Owner-operator's West Coast hot rod-style 379]
---
Catch plenty more views of the truck in the video up top. For more videos and custom-equipment features delivered to your email inbox, subscribe to Overdrive's weekly Custom Rigs newsletter via this link.
Transcript
Mark Aragon: My name is Mark Aragon. This is my son, Payton Aragon, and we're based out of the La Salle, Colorado. So this truck, the 2003 Peterbilt 379 extended hood, I built it here with my son Payton. He pretty much, other than the color, came up with all the design. I could let him tell you a little bit about it.
Payton Aragon: Yeah. We started off, it was just 2003. It was a day cab. It wasn't stretched out or nothing. Then we were hauling cattle with it, and I told my dad, "Dude, we can't keep rolling around in this. Not lame, but this day cab, we got to make it cool. Come on." He was like, "All right." So we put the sleeper on. Originally it was a 72-inch standup, and then we put the Talladega Fiberglass to make a conversion kit to make it a flat top. I'll let you say some.
Mark Aragon: Yeah. So then we went with a 12-Gauge air ride up front. We did the American Eagle 22-inch bumper, the truck's lights. We made our own custom logos to match our last name. We did the gold leaf striping to kind of break up the green because it was a lot of green. So as far as the green, it's a candy paint that we got through House of Colors to just stand out in a crowd full of trucks here, in a parking lot full of beautiful trucks. We got the watermelon lights with the 14-inch visor. Then we got button tuck interior. We got the 4 States floor that we painted. We got the twin sticks. That's a 4 State second shift kit that they did. We moved the stereo down into the dash and we converted it to a little TV, so there's a screen in the dash instead of having the radio up top.
Payton Aragon: You can watch TV on that, which we thought was cool.
Mark Aragon: So the pin striping goes all the way through the truck throughout. We just try to keep the theme through the inside and the outside. Got the eight inch stacks. One thing that I've always thought was really cool is my son just thought it would be cool to flip the ends of the diesel tanks out. So they did that, and it seems like a lot of people come to notice that. We got the fuel tank panel, which we pinstriped as well.
Payton came up with this idea a little bit, him and the painter, about we've put so much time and money and effort in to this truck. So they made a shape of a safe with a little dial there, a combination, and then just money coming out of it. Just because of all the time and effort we put in it, they thought that was just a cool little touch to put. We boxed the frame in just to give it that old school hot rod look. Yeah.
Payton Aragon: And then we did the pinstriping all throughout. We boxed every one of our bumpers.
Mark Aragon: We have a buddy, his name's Kyle Cook at Eaton Paint & Body. He did all the painting. Lil' Dame, she's a pinstriper out of Colorado. She's the one who did all the pinstriping and the gold leaf on the truck.