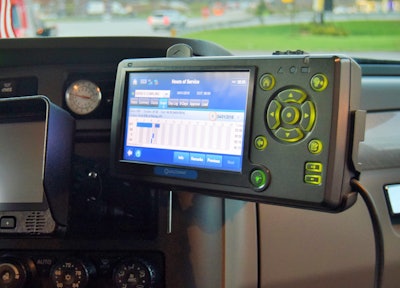 A federal mandate requiring nearly all U.S. truck operators to use electronic logging devices to track duty status has been upheld in court, meaning the December 18, 2017, compliance date remains effective.
The 7th Circuit Court of Appeals, the federal court overseeing the case, ruled to keep the mandate in place, securing a victory for the Federal Motor Carrier Safety Administration and its ELD rule. Its decision was issued Oct. 31, following oral arguments made in Chicago on Sept. 13.
The decision does not change the rule's exemption for pre-2000 year-model trucks, which are allowed to operate without an ELD.
The Owner-Operator Independent Drivers Association filed a lawsuit on behalf of two truckers in March in an attempt to have the mandate overturned. But OOIDA was unable to convince the court of its arguments that the rule violates truckers' Fourth Amendment rights to privacy. OOIDA also claimed the rule didn't meet standards set by Congress for an ELD mandate — an argument the court also rejected.
The rule "is not arbitrary or capricious, nor does it violate the Fourth Amendment," the 7th circuit judges wrote in their decision. The decision was issued by circuit judges William Bauer, Michael Kanne and David Hamilton.
The 7th Circuit Court of Appeals is the same court that tossed out FMCSA's 2010-published ELD mandate on the grounds that the rule didn't do enough to protect truckers from harassment by carriers via the devices.
The court in its Oct. 31 decision said the agency fixed those issues in its 2015-issued rule.
The 7th Circuit Court of Appeals is the highest court in the country next to the Supreme Court. OOIDA still has the option to appeal the ruling to the Supreme Court.
The ELD mandate rule, published December 2015, requires most truckers currently required to use paper logs to transition to an ELD by December 18, 2017.
Read more about the mandate via this link to Overdrive's full coverage of e-logs, from the most recent story the older pieces. Hear OOIDA's and U.S. DOJ's oral arguments from September court hearing below.