Stoneridge, Inc. announced that truckers can now purchase the EZ-ELD electronic logging device at all Love's Travel Stops locations.
In-cab, the BYOD ("bring your own device") style EZ-ELD pairs a smartphone application with an ECM plugin that communicates with the application. "We designed our EZ-ELD with the truck driver in mind, making it easy to install, easy to use, and an affordable way to get compliant with the ELD mandate," said Stuart Adams, North American Aftermarket Business Unit Manager for Stoneridge. The EZ-ELD's entry on Overdrive's quick-comparison ELD provider chart shows a one-time $149 cost with ongoing monthly fees of $15 monthly or $150 annually. "We provide a one-box, one-flat-rate solution to our customers without a contract, and are delighted to be offering that solution through the Love's locations."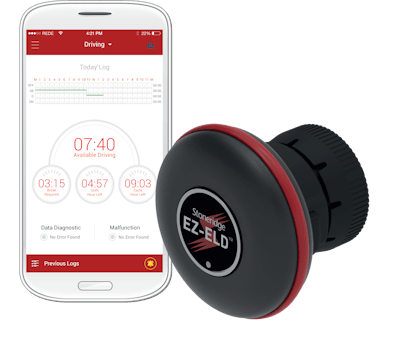 EZ-ELD includes three interchangeable onboard diagnostic (OBD) connectors, making it easy to switch between vehicles. Additionally, EZ-ELD contains Scan and DriveTM technology, allowing drivers to quickly pair the device with the iOS or Android app and seamlessly operate between vehicles. Drivers simply scan a QR code to securely connect the EZ-ELD smartphone app to the device, and they are ready to hit
the road.
Once fitted with the Stoneridge EZ-ELD, trucks are compliant with the FMCSA's ELD regulations and enjoy the added benefits of electronic driver vehicle inspection reporting and IFTA mileage tracking without extra charges. Love's Travel Stops and Country Stores have more than 430 locations in 41 states.