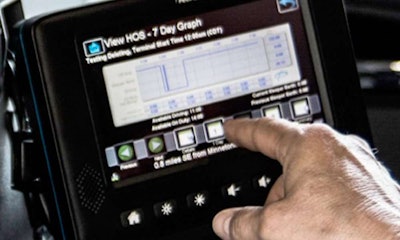 The Federal Motor Carrier Safety Administration is considering allowing carriers using PeopleNet's fleet management system extra time to bring newly acquired trucks into full compliance with the federal electronic logging device mandate. If the waiver is granted, carriers using PeopleNet's fleet management system will be allowed to run so-called automatic onboard recording devices (the predecessor to ELDs) until December 18.
PeopleNet's AOBRD software performs most of the functionality required by the ELD mandate, save for a few small details.
The waiver request, filed by Old Dominion on behalf of all carriers running PeopleNet systems, stems from technical issues in updates to PeopleNet's e-logging software. While PeopleNet's hardware is compliant with the mandate, Old Dominion says PeopleNet's December 2017 software update, intended to bring its AOBRD software up to an ELD-compliant spec, did not integrate with PeopleNet's fleet management software.
Old Dominion, and other carriers using PeopleNet's system, already received a waiver giving them until March 18 to update their AOBRD software. A new waiver request, published last week in the Federal Register, would give them an extra 9 months to install the updates. Carriers and industry stakeholders can comment on the proposal until March 2 at this link.
Per the ELD rule finalized in 2015, carriers and drivers running AOBRDs before the December 18, 2017, deadline for ELD compliance already had a two-year grandfather extension to update their units to ELDs. However, any new trucks acquired in the two-year time frame are required to use ELDs, not AOBRDs. Trucks replacing existing fleet equipment are covered by the two-year grandfather clause.
Nearly all of Old Dominion's fleet — and the fleets of other carriers using PeopleNet's system — are covered by the grandfather clause. The issue at hand is the addition of new trucks, which will run AOBRD software until the software can be updated.
AOBRDs record hours of service compliance and upload that information directly to fleets, mostly conforming with ELD rule requirements. "If the settings were not adjustable, the PeopleNet AOBRD would be similar to, but not identical to FMCSA's ELD specifications," says the exemption request filed last week. "Certain AOBRD software changes must be made by PeopleNet, including: Disabling the 'skip feature,' limiting the auto-duty status change threshold to 5 miles; and limiting geofencing of yard time to 0.5 miles."
FMCSA has not said when it will decide to grant or deny the request.