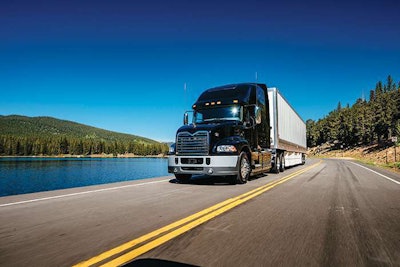 Mack Trucks and Telogis are offering a free 30-day trial of Mack Fleet Management Services with Telogis Fleet. As with Volvo, Telogis has a connectivity agreement with Mack, allowing the telematics service provider to use data from Mack's factory-installed telematics device to deliver on a variety of management applications, including electronic logs.
Bill Frerichs created a deadline in 2017 of July 1 to have electronic logging devices operational for his nine-truck fleet. The president and owner of St. Louis-based Frerichs Freight Lines was mulling his options.
"The almighty bottom dollar is not the deciding factor, but it is part of it," Frerichs said. "I am hoping I can get into this for under $35 per truck per month."
One option was to upgrade the logging app Frerichs currently is using for his late-model Volvo fleet. The BigRoad app runs on Android-powered tablets secured to dash-mounted docking and charging stations.
Frerichs also was considering ELD applications from Omnitracs or Telogis, both of which have connectivity agreements with Volvo Trucks to leverage the telematics data that the truck maker already captures for its Remote Diagnostics service. Volvo installs a telematics device in all new vehicles at the factory. The XRS platform from Omnitracs could run on Frerichs' existing Android tablets, and so could Telogis' suite of applications.
Frerichs was looking beyond compliance for systems that also report driver and vehicle performance, which Omnitracs, Telogis and others could provide. "I want to create a driver incentive program to pay a fuel bonus and things like that," he said.
In a perfect world, any ELD software developer could leverage the mileage and engine data from telematics devices that truck makers install at the factory. The data could be accessed by a mobile app through a local Bluetooth connection or be fed to apps installed on a truck's touchscreen infotainment system.
Absent a printer as a backup, the ELD rule requires that logs be viewable by law enforcement officers in a display. For this reason, it might not make sense for truck makers to install a computing device with a non-mobile display, says Omnitracs Director of OEM Solutions Wes Mays.
While most truck makers are not in the ELD business, their investments in remote diagnostics and telematics can pay dividends for third-party ELD providers.
Download the full ELD Buyers' Guide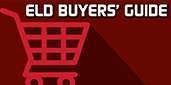 Click here to download the full version of the Overdrive ELD Buyers' Guide, updated with how your business can choose an ELD for your business.
Paccar installs a PeopleNet telematics unit in Kenworth and Peterbilt trucks with Paccar MX-13 engines at the factory. To run PeopleNet's eDriver Logs application, truck owners would need to purchase or lease one of the vendor's driver displays, but they would gain additional value beyond compliance.
"The customer gets access to Paccar's detailed and advanced maintenance services preloaded on the device, along with PeopleNet's fleet management capabilities," says Eric Witty, vice president of product for PeopleNet.
Daimler Trucks North America installs Zonar's telematics unit, the V3, in Freightliner and Western Star trucks at the factory. DTNA uses V3 to power its Virtual Technician remote diagnostics service, allowing Zonar's Connect and 2020 tablets to run the ELD application.
The 2018 Cascadia has the ability to integrate other ELD applications.
The latest version of Navistar's OnCommand Connect remote diagnostics service includes asset tracking, an ELD and other fleet management applications that run on BYOD mobile devices.
In coming months, Navistar will install OnCommand Connect at the factory and expand its capabilities in driver and vehicle safety functions. Volkswagen, a major shareholder of Navistar, has a telematics company, RIO, that will help in developing a common hardware and software platform for all Navistar trucks.