The key thing for trucking companies large and small to know about the Dec. 17, 2019, last-permissible date to utilize grandfathered electronic-logging-devices-by-another-name (that would be Automatic Onboard Recording Device-type e-logs, or AOBRDs), is that it's not too early to start making the transition today, particularly for fleets with numerous power units and legacy e-log equipment requiring hardware and/or software updates.
Truckload Carriers Association Government Affairs Vice President David Heller has heard some talk about extensions of the date, but there's "not an appetite for that" at the Federal Motor Carrier Safety Administration, he said, judging by his conversations with regulators. Heller was speaking as part a TCA online seminar Thursday aimed to provide information on what the transition will entail. "Now is the time to begin that transition. Do not wait until December. Get the hiccups out of the way."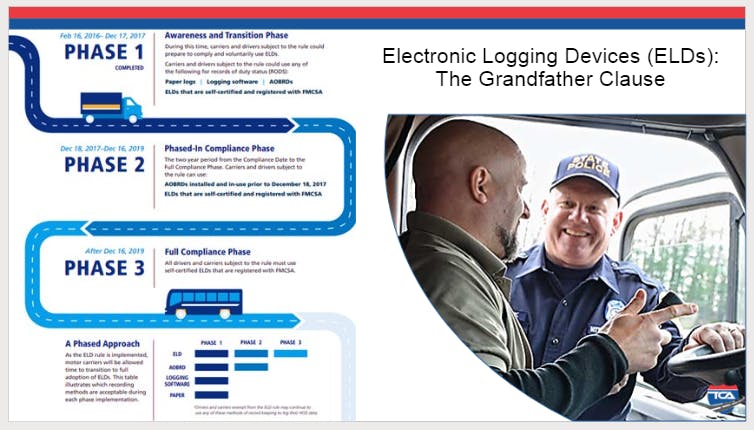 A sizable majority of attendees of the seminar — 3 in every 4 — reported continued use of AOBRDs, which give some modicum of flexibility when it comes to the automatic switch to on-duty driving with motion as well as the ability to make edits in the back-end of the system without those edits being visible to roadside inspectors or approved by drivers. As far as hiccups, the biggest potential time-consuming hiccup for a fleet of some size has to do with hardware and software changes that may be required, depending on the AOBRD you may be using, and time to implement and train personnel on the new devices.
For many owner-operators running a smartphone-capable app like BigRoad or KeepTruckin, two of the most commonly used e-log products among independents, such a change could be as simple as the click of a drop-down menu in the system's online dashboard, but that's not the case for many others.
Things to know about the switch, too, were emphasized by both Heller and Mark Spicer, vice president of sales at e-log/telematics systems provider OrbComm, who presented the session. Owner-operators utilizing full-fledged ELDs will be familiar with the perhaps most obvious difference in functionality between AOBRDs and ELDs.
"When your driver jumps in the truck and  begins to move forward" with an ELD, on-duty driving will be triggered in any on-spec device at "5 mph," Spicer said, whereas with an AOBRD fleets were "allowed to define the speed limit" to trigger a driving status.
With log edits, drivers will now be firmly within the chain of custody of their logs — "edits made by the back office," he added, will "go to the driver for final approval."
As regular readers and current ELD-spec device users will know, drive time can't be erased, and mistakes or incorrect entries that are edited and/or corrected require annotations, or notes, that help explain them and will be fully visible to enforcement at the roadside, not just during an audit of the back office.
"Unassigned driving time," Spicer says, an example being when a "driver takes off and fails to log in the device," must too be accounted for, which may necessitate new staffing to handle for a sizable carrier.
Company drivers and owner-operators leased to large carriers still under AOBRDs are likely to see new training coming on how to operate their e-logs when it comes to inspection procedures. With ELDs, there are five different possible ways of transmittal to roadside officers, and depending on the device and the jurisdiction, those could happen in different ways, though all are intended to be near instant, whether a digital communication like direct email, upload and transmittal through web services or local bluetooth/USB stick, or simply by handing the device to an officer.
Spicer noted, too, the special Personal Conveyance (off-duty driving) and Yard Moves (on-duty not-driving) categories of movement that any fleet moving to ELDs from AOBRDs would need to decide how to handle.
With Personal Conveyance, the first question is "whether they'll offer it at all," he said, a choice fleets have to enable it for use by drivers or not, then what's allowable by fleet policy and underscoring the basics of the rule. Both Spicer and Heller made note of a significant PC guidance change announced in tandem with the ELD mandate going into effect that allowed movemen under PC from a shipper/consignee to a safe haven for parking if the driver ran out of hours due to load/unload delays.
As is common practice today, and required under the ELD mandate, drivers must carry eight days' worth of blank paper log sheets as a back-up in case of a malfunction, a user guide for their ELD, and carry any records related to malfunction extensions or ELD exemptions in place while on paper. (Read more about malfunctions and what's required via recent reporting, and other background available in links within that story.) 
Make internal decisions about who should have those back-office user accounts — whether "dispatchers, safety compliance  managers" or others on the support team, Spicer said — and put in place procedures to deal with necessary edits and account for unassigned driving events, when they arise. Involve drivers directly in the process, he added, pointing to a common pitfall among personnel all along the chain of log custody in an ELD-enabled fleet: too many who don't "know how to use the ELD … to demo it. It sounds simple, but there are a lot of different devices out there. Have a device on-site for training with drivers, and give them as much detailed information as possible."