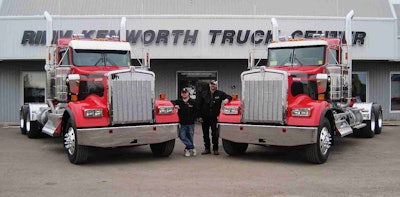 Gerald Albrecht and his son, Jake, purchased these near identically spec'd 2012 Kenworth W900Ls in January from Rihm Kenworth in Minnesota to begin their second year shoring up levees around dikes in North Dakota's Devils Lake Basin. They use side dumps for the job, particularly good for such operations (likewise highway construction, as they can quickly lay a row of material).
The dumps the Albrechts pull are particularly useful, Jake says, given they can dump "22 tons off either side of the trailer."
The levee work comes on the heels of Jake's brief tenure with a side-dump hauler in their native northern Minnesota and 30 years in log hauling and farming for the elder Albrecht. "We were working 40 miles from here [in 2011] and a job ran out," Jake says. "We'd heard the dikes were booming, so we just drove out and talked to the foreman and asked him if he could use two trucks. He said sure, and we got hired on the spot. Folks say there are no jobs to be had, but if you just drive up and ask," good things can happen.
In mid-June the Albrechts were running between an excavated hill in a farmer's field with clay a mere five miles to the dump site and back. "Twenty-one loads a day, six days a week," Jake says. Living in a camper near the site in-season (the job runs from mid-April through November, as weather permits), they get home to northern Minnesota regularly, where they run logs in the winter.
It's been quite an adventure for Jake, who turned 21 concurrent with his first new-truck purchase. (It's not his first truck, though: At 18, he bought the used W900 he ran intrastate prior.) The new trucks are spec'd with 13-speed Eaton Fuller transmissions, a 245-inch wheel base, low-end gearing and Cummins ISX engines. There is but one difference between them: Dad's got the 550-hp ISX, Jake the 485. "It's getting good fuel mileage," Jake says — 5.5 mpg pulling side dump, with just 30,000 on the odometer in June.
None too shabby.