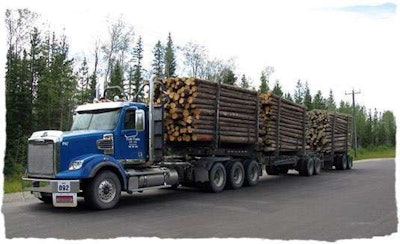 Burke Purdon, owner of a contract log hauling small fleet in Prince George, British Columbia, has been in business since 1970, when he started the company with one used 1965 Freightliner he bought from his father-in-law. Since that first purchase, he's expanded, involving the entire family in the business.
The company typically hauls in a 200-kilometer radius of home base. The proximity means that, most days, his drivers are home for the night. A typical trip might include pavement to a gravel resource road, then into the timber block and back, all in the same day. Road conditions change with the seasons. In winter, it's icy, with temperatures as low as minus 40 degrees and anywhere from three to fourteen feet of snow. When the spring mud dries up in summer your left with very rough gravel roads.
With a typical payload of approximately 100,000 lbs. and a combined weight of 140,000, his trucks are put to the test. Six new Freightliner Coronado 122SD models are the most recent addition to the fleet, spec'd with 550-hp Cummins engines and tri-drive axles for bigger payloads and improved traction. In addition to a high standard for durability in the truck, Purdon praises the look of the Coronado and the daycabs' comfort level, a chief concern in rough-riding conditions. "I'm six feet tall, 330 lbs., and I can get comfortable in that cab."
The new trucks mark his first experience with selective catalytic reduction technology as well. He spec'd outsize DEF tanks to enable six or seven days' worth of running before a fill-up if needed. Otherwise, the tanks are filled every five days as part of the regular service schedule.
Find more on the Purdon fleet in Freightliner's Severe Duty Report.