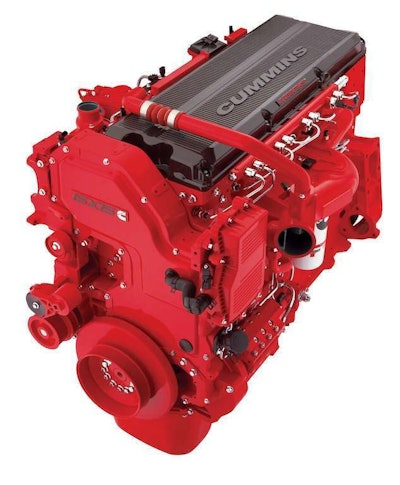 ISX15 Specs (as tested)
Tractor: 2012 Peterbilt 386
Engine: ISX15 Family 1
Power rating: 450 horsepower at 1,750 rpm
Gearing: 1,235 at 65 mph
Transmission: Eaton-Fuller RTLO-16913A 13-speed manual
Axle: Dana 3.08
GVW: 75,000 pounds
As a young man, Clessie Cummins worked as a chauffeur for a banker and gained a reputation for his mechanical aptitude. By 1919 he had founded a small-engine company in Columbus, Ind.
His early efforts – small diesels for farm applications – fared poorly, and his engine sales to yacht makers dried up with the Depression. But once he struck a deal to convert a supermarket's fleet of trucks to Cummins diesels, his company's future was secured. Today, Cummins has more than 6,000 dealers in more than 190 countries.
The company hasn't lost its founder's spirit of innovation. For example, it's taken a leading role in the development of heavy-duty natural gas engines for trucking. But the diesel truck engine is where the company's roots are, and Cummins' creative design continues there as well. Now that the drawn-out emissions war of the past few years is settled, Cummins is preparing to launch its next generation of heavy-duty diesel engines. Overdrive was lucky enough to get one of the first test drives of these new engine families.
The new ISX15 will appear in new trucks early next year. The engine is amazingly smooth and surprisingly quiet. Because it's a smart engine, you might have to break a habit or two in terms of shifting patterns or gear selection in order to get the most out of it. But Cummins has designed it in a way that it coaches drivers to get the best fuel economy possible while delivering plenty of power – all the while making the driver safer and more productive.
Lou Wenzler, on-highway communications director, says that Cummins today is all about boosting fuel economy in its engine designs, with targeted improvements of up to 2 percent over its current engines. Since the engines burn less fuel, the improvements allow the new ISX15 to already meet 2014 Federal Greenhouse Gas Emissions regulations.
"We're also going to offer better performance from these next-generation engines," Wenzler notes. "Drivers will notice improved response to their throttle inputs along with taller gearing and 'smarter' electronics that will allow them to drive better by helping manage power demands while still delivering improved fuel economy."
The ISX15 I'm driving on this crisp June day is a prototype engine mounted in a 2012 Peterbilt 386 that Cummins keeps at its product evaluation lab on the outskirts of Columbus, about an hour south of Indy off I-65. The engine churns out an impressive 450 horsepower while running at 1,750 rpm.
Cummins plans three versions of the ISX15, based on torque and horsepower. This test engine, what Cummins calls a Family One, will be introduced for fleets next year. A Family Two version for owner-operator and premium fleet trucks, as well as a 600-hp Family Three variant for heavy haul, will follow soon afterward.
To help boost fuel economy, Wenzler says, engineers worked hard to reduce parasitic loads inside the engine design, including a new, optimized fuel pump with reduced internal friction, a newly designed variable geometry turbocharger and a new intake throttle design to optimize EGR flow in the engine.
"We're looking at every detail, no matter how small," Wenzler adds. "For example, how fast do you need to spin a water pump to maintain cooling efficiency? And how does that affect fuel economy? Nothing is off the table."
Cummins has also taken advantage of more powerful electronic engine controls to make drivers' lives more comfortable during long days behind the wheel. To that end, the new ISX15 will feature multiple new driving tools.
One major one is a new gearing system, says Jason Owens, customer performance technical manager. He's the guy who teaches Cummins customers how to drive these new engines for optimum efficiency. For most drivers, he says, that means learning to shift at the proper lower engine rpm levels and – most importantly – leaving the truck in top gear as much as possible.
"A lot of the older drivers don't feel like they have any available power in top gear," he explains. "But with these new engines, fuel economy and durability are greatly enhanced by running in top gear as often and as long as possible." That's where the new Gear Down Protection feature on the ISX15 comes into play. It limits vehicle speed in lower gears to keep drivers from winding out the transmission and encourages timely upshifts into the "sweet spot."
On I-65 heading up toward Indy, Owens instructed me to shift the 13-speed Eaton in 12th gear to see what would happen. Sure enough, the truck wound out to about 58 mph and then just lugged along. That's the smart electronics kicking in and retarding vehicle speed. But the intervention isn't aggressive. A quick upshift results in impressive acceleration up to 70 mph.
Indianapolis' heavy traffic was the perfect opportunity to showcase the ISX15's new cruise control. It's easily programmable by the driver to meet a wide array of settings – from high and low cruise speeds to high performance on grades or optimized fuel economy.
The ISX15's Load Based Speed Control, Owens explains, is designed to improve fuel economy and lower engine noise by matching engine performance to your load.
In my case, GVW was approxi-mately 75,000 pounds. On flat stretches – and there are plenty around Indianapolis – Cummins' ECM limits the amount of usable engine speed the driver has to optimize fuel economy.
I can already hear veteran drivers grousing.
But the ISX15 accelerates so smoothly and quickly you'd never know any power was being held back. The idea is to give ample on-demand power to get a load moving, yet limit the chance of a costly, unnecessary fuel burn brought on by a heavy foot or over-revving. Not to worry, though. If the ECM senses you're starting out on a grade or pulling a heavier than normal load, the available rpm is automatically increased to compensate.