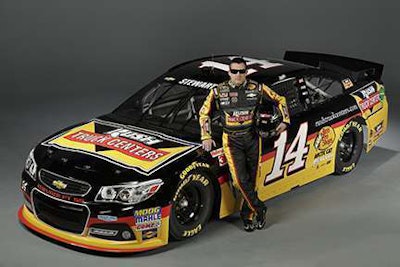 As part of Rush Enterprises' Rush Truck Centers partnership with Stewart-Haas Racing (SHR), three-time NASCAR Sprint Cup Series Champion Tony Stewart will drive the No. 14 Rush Truck Centers Chevrolet SS this weekend in the NASCAR Sprint Cup Series race at Kentucky Raceway in Sparta, Ky. To commemorate the No. 14 sponsorship, all 106 Rush Truck Centers locations will offer a 14 percent discount up to $150 on parts, service labor and racing merchandise today through Monday, June 30, and will feature an exclusive new line of Tony Stewart Signature Series custom truck accessories for heavy- and medium-duty trucks.
"Rush Truck Centers is extremely proud of our continued relationship with Tony Stewart and Stewart-Haas Racing," said Rush Chairman and CEO Rusty Rush. "Many of our customers are passionate race fans, so we're proud to be associated with a great racing organization like SHR and a great sport like the NASCAR Sprint Cup Series. The 14% discount on sponsored race weekends not only helps us promote our partnership, but, more importantly, gives us a fun way to say, 'Thank you,' to our customers."
The Stewart signature accessory kit includes mud flaps, exterior decals, a travel mug, key chain and dash plate and custom floor mats that fit the Peterbilt Model 579 and the International ProStar. All accessories can be purchased separately or as a kit and will be sold through select Rush Truck Centers locations nationwide and online via this link.
Find more information about the racing partnership and associated promotions via the new Rush Truck Centers Racing microsite.
The Kentucky race will be the third of five races featuring Rush Truck Centers on the hood of Stewart's racecar. The No. 14 Rush Truck Centers/Mobil 1 Chevrolet made its 2014 debut earlier this year in Fontana, Calif., and also ran in Richmond, Va., in April. The Rush Truck Centers/Mobil 1 racecar will also be featured at Watkins Glen International on August 10 and Kansas Speedway on October 5.