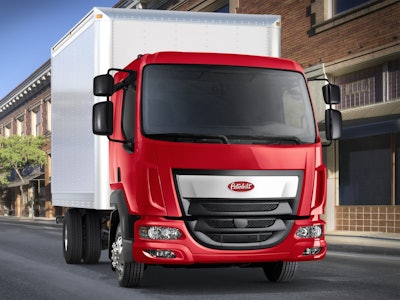 Peterbilt's medium-duty cabover Model 220, introduced earlier this year at the Mid-America Trucking Show, recently saw its first production unit roll off the assembly line at the company's COE manufacturing facility in Mexicali, Mexico, the company announced. The Class 6 and 7 truck is now in full production equipped with Paccar PX-7 Engine with up to 260 horsepower and 520 lb.-ft. of torque. The standard automatic Allison transmission has a push-button shifter for easy engagement.
"The new Model 220 brings customers greater levels of productivity. Drivers will enjoy enhanced maneuverability that shortens the curb-to-curb turning radius by 30 percent and the new, standard electronic braking system (EBS) for improved braking performance," said Robert Woodall, Peterbilt Director of Sales and Marketing. "These characteristics combine with an efficient bumper-to-bumper length of 35 feet for added agility while still delivering an extra 45 inches of payload area and a frame rail system that can be upfitted with bodies ranging from 16 to 28 feet."
Applications from urban pick-up-and delivery to refuse, landscaping and street sweeping and striping are all appropriate for the unit, the company says.
The cab interior features a completely redesigned interior engineered with an eye to safety, productivity and comfort. It features a 2,500-square-inch windshield, large side windows and a multiple-mirror array to provide operators a panoramic view, and a new curved dashboard features easy-to-read instrumentation and an interactive, 5-inch color display module that provides information on vehicle and driver performance.
"The Driver Information Center display in the Model 220 keeps operators abreast of all vital vehicle and engine functions," said Chief Engineer Landon Sproull. "The multi-language system features advice for the operator on ways to improve in areas such as increasing fuel efficiency and reducing brake wear by modifying behavior."
On the exterior, the new cab is designed for durability, the company says, to withstand harsh urban operating environments: a galvanized steel bumper, new radiator protection plate, headlamps with a tough Lexan covering. Fog lamps integrated into the bumper improve visibility during adverse conditions.