Oversize and overweight loads are common in trucking. Flatbedders across the country haul larger-than-average freight every day along specialized routes.
Some of those heavy-specialized loads, however, stand out from the crowd. Each year, the the Specialized Carriers & Rigging Association recognizes some of the most impressive at its annual conference. Last month, three companies were named winners in four categories – under 160,000 pounds, 160,000-500,000 pounds, 500,000-pound-plus super loads, and "Moving," dedicated to hauls "using specialized equipment, such as self-propelled transporters, dollies and crawler assemblies. Transport must be evident," according to SCRA criteria.
[Related: Big loads, big equipment, big pay: Heavy/specialized hauling explored]
Here are the 2021 SCRA Hauling Jobs of the Year:
Under 160,000 pounds: Precision Specialized, Inc.
Freight: Power generation modules from Oakville, Ontario, Canada, to the port of Hamilton, Ontario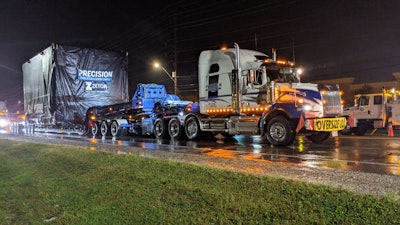 Precision Specialized used a four-axle Western Star and a 13-axle Trail King Perimeter rear-steer lowboy for the loads. Routing was key to the move -- the normal route from origin to destination was only 15 miles, but the final approved and permitted route traversed 70 miles. Complete road closures and press releases in all major papers and on social media and television were used to ensure the traveling public was aware of this move.
COVID-19 protocols added to the stringent rules and regulations of the move, Precision said. Supplying food and restroom facilities was another concern that was met with mobile units that traveled with the convoy. The final night of travel had a total of 230 people involved in the move.
Precision used information from a previous load convoy across southern Ontario a decade ago done by another company that "was a disaster," the company said. "They budgeted three nights and the move took three weeks. That experience plus the experience we gained over the years allowed us to prepare well in advance."
Ultimately, the job was delivered on-time. It was budgeted for seven nighttime travels, and it was completed in six nights.
160,000-500,000 pounds: Omega Morgan
Freight: Two Cold Box Modules from the Port of Longview, Washington, to a large semiconductor factory in Hillsboro, Oregon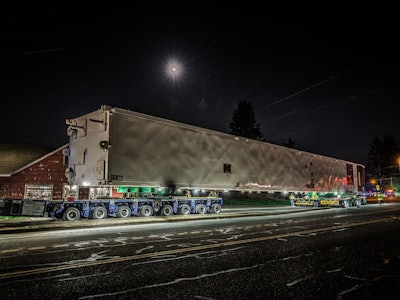 The pieces were loaded onto an Omega Morgan-provided barge directly from a ship. From there, they were moved across the Columbia River into Oregon and offloaded utilizing self-propelled modular transporter (SPMT) trailers and placed on beams and stands. Omega Morgan crews utilized hydraulic dollies for the first half of the 45-mile journey. For the second half of the journey the units were transloaded onto six lines of four-file K25 trailers and eight lines of two-file Goldhofer trailers with custom bunks and turn tables on both. The run took three nights to traverse the approximately 45 miles traveling along city, county and state roads.
Finding equipment configurations that could accommodate the only available route for the move proved to be a challenge, the company said. One of the biggest safety considerations during the haul was utility work. "We had a tremendous amount of wires that needed to be lifted and removed over the course of the project," Omega Morgan said. "We had 11 companies involved over the course of a 45-mile-long route. This is challenging because you get five to eight utility trucks that now must not only travel with the convoy but also maneuver around the convoy once it passes."
Another safety challenge was congestion at night. There were more than 15 vehicles in the convoy, and "finding safe locations along the route to clear traffic as well as move our support vehicles around was a concern."
Greater than 500,000 pounds: Emmert International
Freight: Nuclear Reactor Pressure Vessel Cask from North Las Vegas, Nevada, to Clive, Utah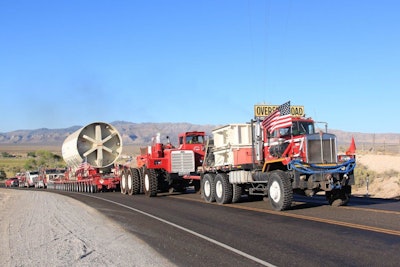 Emmert International utilized a combination of Goldhofer platform THP/SL trailers, Goldhofer ADD Drives, and 7 prime movers to transport the load. The 400-mile journey required a detailed route survey that was presented to the Nevada Department of Transportation for analysis. Over the course of 12 months, NDOT and Emmert identified a suitable route that entailed 7% grades, culverts that needed to be shored and civil improvements along the roadway and at railroad crossings.
Given the 1,470,000-pound weight, long span bridges were not possible to cross. For many portions of the route, the roadway was only two lanes wide. Civil improvements were required to provide pull out areas, overnight parking, and emergency vehicle relief.
Moving Job: Emmert International
Freight: Nuclear Reactor Pressure Vessel from San Onofre, California, to North Las Vegas, Nevada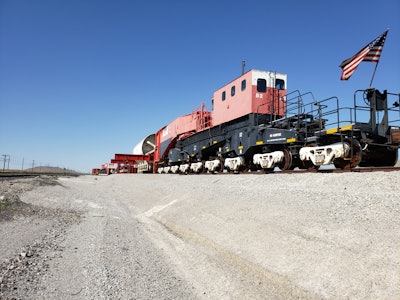 Emmert International utilized a 36-axle Schnabel rail car to move the nuclear reactor pressure vessel cask from the San Onofre, California, nuclear power plant to North Las Vegas, Nevada. The rail car needed to perform more than 600 lifts and shifts to navigate the rail route. The sides of the cask had to be shaved down to fit within several through truss bridges. In some cases, clearance was less than an inch.
Safety considerations were low-level radiation, developing an emergency response plan and notification of governing agencies. There were also routing issues, including shoring the San Juan Railroad Bridge, upgrading railroad siding at the point of origin, and building new rail siding at the North Las Vegas delivery point.