Trucking news and briefs for Tuesday, Jan. 11, 2022:
Fuel prices creep back up following seven-week decline
After falling by 12.1 cents over the final seven weeks of 2021, diesel prices reversed course during the first full week of 2022 with a 4.4-cent increase, according to the Department of Energy's weekly update.
The U.S.' national average for a gallon of on-highway diesel during the week ending Jan. 10 was $3.657, which is 98.7 cents higher than the same week a year ago.
Diesel prices increased in all but one region across the country, with the most significant increase being seen in the West Coast less California region, where prices jumped 7.5 cents. The lone region to see a decrease last week was the Rocky Mountain region, where prices dropped by 2.1 cents.
California remains home to the nation's most expensive fuel at $4.782 per gallon, followed by the West Coast less California region at $4.002 per gallon.
The cheapest diesel can be found in the Gulf Coast region at $3.384 per gallon, followed by the Midwest region at $3.522 per gallon.
Prices in other regions, according to DOE, are:
New England – $3.627
Central Atlantic – $3.808
Lower Atlantic – $3.547
Rocky Mountain – $3.666
ProMiles' numbers during the same week saw fuel prices increase by 1.2 cents, bringing its national average to $3.51 per gallon.
According to ProMiles' Fuel Surcharge Index, the most expensive diesel can be found in California at $4.651 per gallon, and the cheapest can be found in the Gulf Coast region at $3.306 per gallon.
115 pounds of cocaine uncovered in tractor's sleeper
A 32-year-old truck driver from New York City was arrested for having 115 pounds of cocaine in his truck's sleeper berth over the weekend.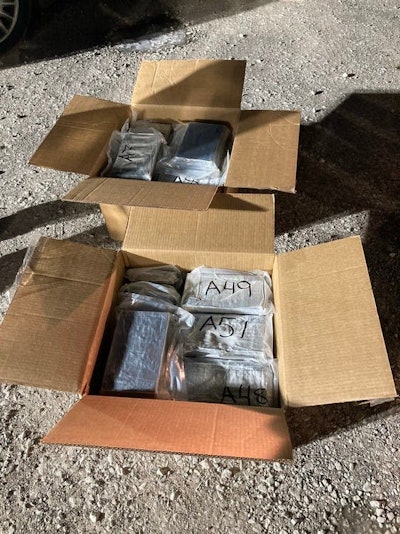 On Sunday evening, Indiana State Police said they stopped a tractor-trailer driven by Vikram Sandhu of Queens, New York, near the 41-mile-marker of Interstate 70 southwest of Indianapolis.
Police said while talking with Sandhu, they detected what they called "criminal indicators."
A K9 unit from the Putnam County Sheriff's Office was brought in to sniff for drugs. During the search, police said they found about 115 pounds of cocaine in the sleeper portion of the truck. The estimated value for that much cocaine is around $2 million. He was reportedly traveling from Houston to Indianapolis.
Sandhu was charged with dealing and possession of narcotics.
Love's plans another big year of openings in 2022
Love's Travel Stops plans to open more than 40 locations and add more than 3,000 truck parking spaces in 2022, the company announced Tuesday.
The announcement follows a challenging but successful 2021 in which the company opened 38 new locations, added more than 3,000 truck parking spaces and donated several million dollars to support truck drivers, sick and homeless children, veterans and more.
"This year, we will continue to improve the amenities and services our customers have come to love and expect when they stop at our locations," said Shane Wharton, president of Love's. "New features will also be added that we think will wow them. Our customers and team members made last year a great one, and we expect the same for this year, as we continue to get customers back on the road quickly and safely."
Throughout 2022, Love's plans to open more than 20 Love's Truck Care and Speedco locations, continue to enhance its Love's Connect mobile app, expand the Love's-branded product line and more.