Trucking news and briefs for Jan. 20, 2022:
Tarpstop's new Fastrak rear auto-tensioning system
The Tarpstop company, said President Joe Callahan, has always prided itself "on serving our customers. It's what we've built our business on and will always be our number one objective." Callahan spoke on the occasion of the introduction of Tarpstop's new Fastrak RTS system, a rear auto-tensioning system.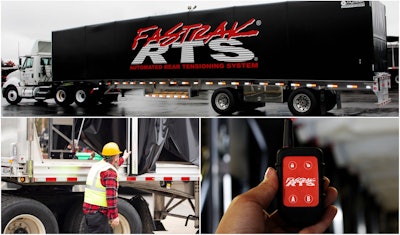 Fastrak RTS features patented technology that allows users to quickly tension and release tension in 20 seconds. The push of a button replaces the need for manual tensioning and saves operators time and money, the company said. It also ensures proper tension on tarps, increasing fuel efficiency.
The system comes with no loss of storage space, and the RTS can be retrofitted to existing Fastrak Rolling Tarp Systems.
[Related: Curtainside hotshot? You bet -- meet S2 Transport]
Medium-duty electric-truck partnership between Isuzu and Cummins
Isuzu on Thursday announced a partnership with Cummins on the development of a medium-duty battery electric prototype truck for North America.
This truck would be the first zero-emissions solution from the Isuzu Cummins Powertrain Partnership (ICPP) formed in May 2019. Under the terms of the agreement, Cummins will integrate its PowerDrive6000 into Isuzu's F-Series truck and will pilot the truck with North American fleets beginning this year.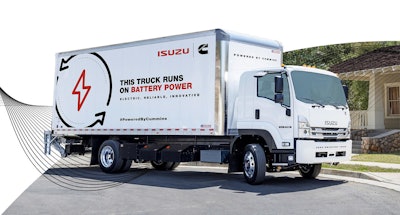 Following a successful demonstration and pilot phase, Isuzu plans to explore opportunities to commercialize medium-duty battery electric trucks with Cummins-powered systems across North America.
"As part of the path to carbon neutrality, it is significant for us to start this joint BEV prototype project in North America," said Koichi Seto, Isuzu director of the board and senior executive officer. Through our partnership, we commit to continuing to explore further opportunities in the next generation power source including electric powertrain technologies in addition to the existing powertrain collaboration.
Any forthcoming electric Isuzu models figure to play a large role in the company's growth strategies in the U.S. in the coming years. At its dealer meeting in Bonita Springs, Florida, this week, Isuzu Commercial Truck of America and Isuzu Commercial Truck of Canada President Shaun Skinner told his sales and service force that the booming e-commerce industry and a declining length of trucking haul – bundled with tightening greenhouse gas regulations and zero emission mandates – were fertile hunting grounds for customers.
[Related: Cutting through the heavy-duty e-trucks hype]