Trucking news and briefs for Monday, March 28, 2022:
Section of I-81 shut down after multi-vehicle crash
Update — Wednesday, March 20, 8 a.m. Eastern: According to the Pennsylvania State Police, I-81 at the crash scene was cleared and repaired and was reopened shortly after midnight Wednesday. Local reports indicate that six people were killed in the crash.
Update — Tuesday, March 29, 2:45 p.m. Eastern: The northbound lanes of I-81 remain closed as of Tuesday afternoon following Monday's crash. According to local news reports, three people have been confirmed to have died in the pileup and 24 were sent to local hospitals with injuries.
Original story follows:
A section of I-81 near Tremont, Pennsylvania, is shut down Monday after a snow squall caused a multi-vehicle crash, including cars and trucks.
The Pennsylvania DOT said the crash occurred on the northbound side of the interstate between Exit 107: U.S. 209 - Tremont/Tower City and Exit 119: Highridge Park Road. All lanes closed are closed as of 2:30 p.m. Eastern time Monday.
Warning: The video below contains strong language.
Local reporters estimate upwards of 50 vehicles are involved in the crash, which reportedly occurred during whiteout conditions.
As of mid-afternoon Monday, there was no indication as to when the interstate would reopen.
[Related: Roads 511: Highway information in real time]
International recalls nearly 3,000 trucks over electrical system issue
Navistar is recalling approximately 2,804 model year 2018-2023 International LT tractors equipped with a 1500W Purkeys inverter system, according to National Highway Traffic Safety Administration documents.
In the affected trucks, the positive battery cable may be incorrectly routed, causing it to chafe on the side skirt frame and become damaged. This could result in an electrical short, increasing the risk of a fire, the recall says.
Dealers will replace any damaged battery cables and install new inverter cable brackets and saddles, free of charge. Owners can contact Navistar customer service at 1-800-448-7825 with recall number 22507. NHTSA's recall number is 22V-164.
Recall affects 1,200 Great Dane trailers
An issue with the suspensions on approximately 1,261 trailers has prompted Great Dane Trailers to issue a recall, according to NHTSA documents.
The recall affects model year 2022 Great Dane Champion and Everest model refrigerated trailers. The suspension radius rod mounting bolts were not properly tightened on the trailers, Great Dane says, which could allow the bolts to come loose and fall out.
Dealers will inspect and tighten the radius rod fasteners, free of charge. Owners can contact Great Dane's customer service at 1-877-369-3493. NHTSA's recall number is 22V-159.
Penske opens new leasing facility in Tampa
Penske Truck Leasing recently opened a new facility in Tampa, Florida, which the company says will allow it to upgrade the service it provides to customers in the area. This is the second recent investment Penske has made in the Tampa market.
The new facility is located at 7140 East Martin Luther King Boulevard. It offers both consumer and commercial truck rental, full-service truck leasing and contract truck fleet maintenance.
It is also outfitted with the company's proprietary fully digital and voice-directed preventive maintenance process and connected fleet solutions, a value-added resource to help customers address issues and options related to onboard technology systems (ELDs, telematics, onboard cameras, etc.).
The location features 28,406 square feet on 11.15 acres of land. It includes five truck service bays, an automated wash bay system, and mobile truck lifts.
Driver named Highway Angel after avoiding head-on collision and helping ill driver
The Truckload Carriers Association has named David Horton, from Kernersville, North Carolina, a Highway Angel for avoiding a head-on collision and rendering aid to an ill driver who lost consciousness.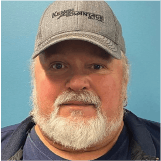 On the morning of Jan. 6, Horton, a driver for Best Dedicated LLC, was driving through Kershaw, South Carolina, on his way to Marshville, North Carolina, when a car from oncoming traffic suddenly veered directly in his path. Horton acted swiftly and swerved to avoid a head-on collision. He immediately pulled over to the shoulder, called 911, and went to aid the driver of the car, which had stopped nearby.
"When I got to his car, he asked, 'what happened?'" Horton said. The driver, an elderly man suffering a medical emergency, had momentarily lost consciousness while at the wheel. Horton waited with the driver and made sure he was attended to by local emergency personnel once they arrived at the scene.
Horton said he responded instinctively during the situation, but was scared "after the fact," adding "I thought how close it was that a life could have been taken."
The family of the driver, whose condition has reportedly improved, said the outcome would have been much different had Horton not skillfully swerved to miss the car and called for help. In a heartfelt thank you letter written to Horton's company, Best Dedicated, the driver's son-in-law wrote, "Me and my wife appreciate the act of valor that (Horton) took."
TCA has presented Horton with a certificate, patches, lapel pin and truck decals. Best Dedicated also received a letter acknowledging him as a Highway Angel.