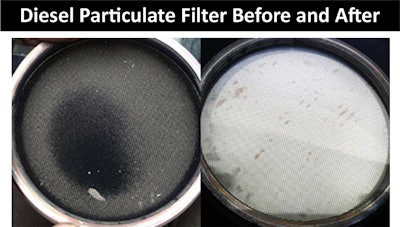 Clean Air Fleet
Emissions system issues have plagued operators for years, particularly after the implementation of diesel particulate filters and NOx sensors in 2007 and 2010, respectively.
During that time, many truck owners looked to get around those issues by buying or holding onto older trucks, or attempting to "delete" the emissions systems in newer trucks. With enforcement getting increasingly intense in crackdowns on the latter (more states are doing smoke opacity inspections, too), and the former getting more difficult with time, owner-operators have turned to other ways to reduce issues that routinely pop up with emissions systems.
Kurt Braunel is the co-owner of Clean Air Fleet with his brother, Clint Braunel. The company offers an oil bypass system and fuel purifying technologies that help keep engines and emissions systems running cleaner. During a presentation last week at the Mid-America Trucking Show, Kurt said there are currently nine states, including California, that are conducting emissions tests during inspections on certain trucks.
"What they're doing is not really telling people about it until you get pulled over and get a smoke test," Braunel said. "They're trying to find damaged, non-compliant trucks … They want to get those trucks off the road."
[Related: Engine tinkerers, beware: Emissions tech, steep fines, and increased enforcement put the brakes on illegal engine mods]
Jim Sanderson Jr, with Michigan-based Flint Trucking, told a story about one day when he was working in the company's shop and a big-bunk truck came in for service. There was a big tank on the back of the truck, Sanderson said, along with a yellow device under the hood on the engine. He started talking to the owner about what the devices were, and found out that they were Clean Air Fleet's fuel additive and oil purifier systems.
The truck owner told Sanderson his Cat engine's oil still looked fresh at 12,000 miles and that he gets more than 7 miles per gallon. Sanderson was skeptical, but after attending a National Association of Small Trucking Companies convention, visiting the Clean Air Fleet booth and seeing how their system worked, he was sold. He started adding the systems to his own company's fleet of trucks.
Since switching to the system, none of the trucks with it installed have had emissions issues, he said. "Since adding the fuel additive, not one driver has done a regen," he said. One truck using CAF products with 665,000 miles has had no issues. "I just had one in the shop yesterday dump the oil at 142,000 miles," he noted. "That's as far as it would go. We oil-sample religiously."
Sanderson also convinced his father, who drives a 2000 Freightliner with a Cummins N14, to start using CAF products. The elder Sanderson was religious about changing the oil in his truck every 12,000 miles.
"Now he does all the oil tests, and we've got him up to 30-35,000 miles," Sanderson said. "The oil is fine, but he still feels like he needs to dump it."
[Related: Diesel emissions problems: Getting the right diagnosis, and the right repair, on the first shop visit]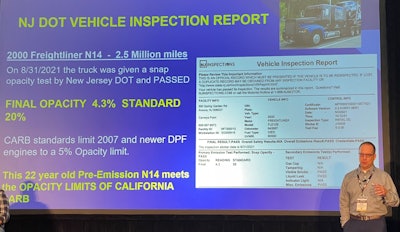 A few months ago, Sanderson's father's Freightliner was stopped in New Jersey for an inspection, and as part of the inspection, they conducted an exhaust test.
"In a pre-emission truck, he got 4.3% [smoke] opacity," Braunel said. "He got stopped by DOT and passed. He took a picture of the report and sent it to us. CARB's limit on a DPF truck is 5%. He's under the limit of a DPF truck" though the N14 has none of the late-model emissions equipment.
Sanderson said his father uses CAF's oil filter, fuel filter and is "religious on the additive" for the fuel. "There's almost no room for improvement at that point for that age of truck. He has an APU and will not idle the truck." The Freightliner is getting close to 3 million miles on the odometer and has only had one overhaul, Sanderson noted.
He's also been saving on the cost of replacing fuel injectors. Sanderson said his father had been having to replace them around every two years, and now has been on the CAF system for five years without any issues.
[Related: Emissions systems, while improved, still causing issues for some owners]
Jason Wilder, with Midwest Logistics, said his fleet started using CAF products in their yard tractors and some of their road tractors.
"We started out and had 30 Ottawa spotter trucks," Wilder said. "They don't get hot enough to regen on their own, so we were sending a guy out spending a week just regen'ing spotter trucks."
After switching those trucks to CAF's systems, he hasn't had to regen any of the yard trucks. "We spent an estimated $10,000 a month regen'ing yard trucks," he added. "Break that down in manpower, with everybody short-staffed -- that guy isn't getting PMs done."
Wilder said the fleet then expanded the system over to some Volvo road tractors in which they were getting upwards of 5,000 fault codes a month across the fleet for emissions and fuel systems.
"After running the CAF system for a couple months, I got a call from Volvo because they weren't seeing fault codes popping up and wanted to know what we changed," Wilder said. "I explained to them what we did."
"Volvo was wondering if you deleted them," Braunel interjected. "They picked [the fleet's] brain. Volvo then contacted us and wanted to know what we were doing."
Clint Braunel, who along with being co-owner of Clean Air Fleet is also the engineer and lead on new technology for the company, noted that the combination of CAF's products result in fuel economy savings between 2-8%.
"You have gas soot and solid soot, and we're addressing both of those," Clint said. "You can't control the quality of fuel you buy. It's an ongoing issue that's only getting worse, from our experience. Fuel economy is a side benefit of the system. ... You'll see a return on investment in six months. Everything after that is icing on the cake."