Trucking news and briefs for Wednesday, July 26, 2023:
Used truck sales continue to improve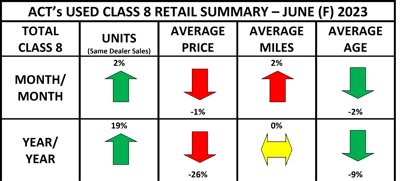 Retail sales of used Class 8 trucks improved in June from May, increasing 1.8%, according to ACT Research's latest State of the Industry: U.S. Classes 3-8 Used Trucks report.
Average mileage on sold used trucks increased 2%, with average price down 1% and age 2%. Longer term, average volumes jumped 19% from June 2022, while price and age dropped 26% and 9%, respectively. Miles were flat year over year.
"Sales usually increase 4%-5% in June, so the increase was not unexpected in that regard," said Steve Tam, Vice President at ACT Research. "However, in the context of the current freight market, and amid all the press regarding fleets going out of business, it may seem a little counterintuitive."
Tam said there has been a "net decline in the number of fleets with operating authority," adding that equipment churn at fleets "is driving the better-than-expected sales volumes. In addition to the churn, more inventory is affording carriers an opportunity to refresh their fleets with younger used trucks."
[Related: Owner-op's journey to trucking, by way of 1973 W900A custom resto: 'Cherry Pie']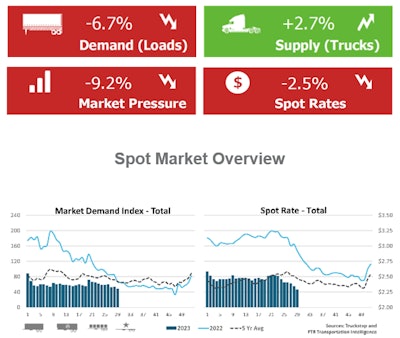 WOTAB meeting again next month
The Federal Motor Carrier Safety Administration's advisory board focusing on issues related to women in the trucking industry will meet next month to discuss various ways to bring more women into the trucking industry.
FMCSA's Women of Trucking Advisory Board (WOTAB) is set to meet virtually on Monday, Aug. 14, from 10 a.m. to 4:30 p.m. Eastern. Registration for the public meeting is available here.
The topic for the meeting will be "Opportunities to enhance trucking training, mentorship, education, and advancement and outreach programs that would increase the number of women" in the business a Federal Register notice said. Oral comments from the public will be heard during designated comment periods in the meeting at the discretion of the WOTAB chair and designated federal officer. Speakers are requested to submit a written copy of their remarks for inclusion in the meeting records and for circulation to WOTAB members.
[Related: WOTAB takes aim at billboard lawyers, NIMBYs]
WattEV opens electric truck charging station at Port of Long Beach
Commercial truck charging developer WattEV has opened the nation's largest charging station of its kind for electric heavy-duty trucks at the Port of Long Beach, the company said. The site features 13 dual-cord CCS 360-kW chargers with the ability to charge 26 trucks concurrently with 5 megawatts of power provided by Southern California Edison (SCE).
"We also plan to add megawatt charging at this depot, which allows pass-through trucks to be charged in 20 minutes," said WattEV co-founder and CEO Salim Youssefzadeh. The Long Beach project is the first of several WattEV electric truck charging depots in the works throughout California, the company said, including warehouse districts in nearby Gardena, inland near San Bernardino, and north in Bakersfield.
This WattEV depot will serve as the southern anchor of the company's planned electric-truck charging freight corridor, which will incrementally connect to major freight routes throughout the West. The depot will serve WattEV's growing fleet of electric trucks operating on its Truck-as-a-Service platform, hauling freight to and from the combined ports of Long Beach and Los Angeles.
When trucks with megawatt charging capability become available, more pass-through e-truck bays are planned at the charging plaza, featuring the faster, higher-power system, rated for charging at up to 1.2 megawatts.
[Related: Will battery-electric trucks end up a 'black eye' on environmental benefits?]