Today on the Overdrive Radio podcast, the captivating story of a truck -- and its owner-operator, Kate Whiting of Wisconsin. The rig, a 1973 Kenworth W900A, turned a half-century old in this the year of the Kenworth company's centennial. Whiting piloted the rig, "Cherry Pie," in the 100th-anniversary parade in Chillicothe, Ohio, back in June. And that's far from its only recent accolade.
The three-plus-year custom restoration of it culminated in 2022 with the truck's first bit of national notoriety, around the time of the Mid-America Trucking Show in Louisville that year. Overdrive's video of the Cherry Pie W900A from MATS has since been viewed tens of thousands of times:
And with more show participation since that debut, Whiting and team's trophy cases have been stuffed.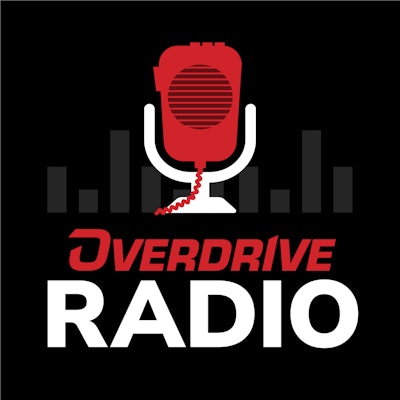 On the podcast, we're joined by Rich Guida of the Howes company, Overdrive Radio's sponsor, who describes Cherry Pie's most recent honor. As regular Overdrive readers will know, Howes inducted Cherry Pie and owner-operator Kate Whiting into the Howes Hall of Fame. The truck features an old-school, reclaimed Double Eagle sleeper with heart-shaped windows on the sides, a Cat 3408 motor (just the second engine in its long history), and more that you'll hear about in the podcast. Owner-operator Whiting herself tells the story of how she became a part of the tight-knit custom truck restoration community in her immediate Wisconsin environs, but also the wider, no-less-tight-knit core of enthusiasts and builders spread across the nation.
It's that community, broadly speaking, that is represented by induction of the W900A into the Hall of Fame, Rich Guida said, a testament to the pride and camaraderie that just flows from it like water.
All in the service of preservation, of a fashion, of the many histories tied up in any piece of truck equipment. To wit, Kate Whiting's turn to trucking as an owner-operator, wrapped in the passion for this and other trucks. Today she's running full-time in a different W900 for Minnesota-based Jerry Linander's small fleet, hauling furniture in an operation that gets her back home most days to the farm on which she lives. Yet she's done plenty more OTR work, too, as Linander early on urged her to learn the business for herself before she found her way back to his operation.
What's in store for Cherry Pie? Well, with a cattle pot currently undergoing a resto of its own at Whiting's place, the W900A could see a little more on-site work at Whiting's farm. Hear more in her own words in today's podcast:
Visit Howes' virtual Hall of Fame and make your own nominations for it via this link.
Transcript
Todd Dills: Hey everybody. Todd Dills here, your host for Overdrive Radio, this edition posting to the podcast feed July 21st, 2023, and rolling out to the world-famous OverdriveOnline.com Monday the 24th. Today on the podcast, a no doubt equally world-famous truck that got its first bit of national notoriety around the time of the Mid-America Trucking Show in Louisville last year.
Our video from the show of the Cherry Pie 1973 Kenworth W900A of owner-operator Kate Whiting, has by now been viewed tens of thousands of times. And with more show participation since that debut of the immaculate custom restoration, the accolades have just continued to pile up and pile up. Here's Rich Guida of the Howes Company, Overdrive Radio's sponsor, describing the most recent such accolade, induction of the Cherry Pie W900 and owner-operator Kate Whiting into the Howes Hall of Fame.
Rich Guida: It's been so great getting to know her and I had the privilege of going out to her place, her farm, in Chetek, Wisconsin. And it was unbelievable Todd, the day, it was Mother's Day, and she called, we talked the day before and she said, "You know, we had a calf and it was a tough birth, so we're taking care of it." Well, when I showed up at her house, that calf was in her kitchen. She wasn't kidding. They really took care of it.
Todd Dills: How did she come to you guys' attention? Who nominated her, a particular nominator?
Rich Guida: This was mostly done through my research at Howes and having spent some time with the restoration community, she kind of rose to the top and was very approachable at Matt's and had some great conversations about what we were thinking of doing. And she and Cherry Pie are really representing that whole community that is bringing back all these trucks.
And it's really cool to see. I know you've seen it and it's amazing to... I mean, I fell in love with the same process with cars when I was a little kid, and to see them do it with trucks and so much more surface area to clean, but it's really kind of cool. And that Cherry Pie is beautiful.
Todd Dills: The rig features an old school reclaimed Double Eagle Sleeper with heart-shaped windows on the sides, a Cat 3408 motor, the second engine in its history, and much more that you'll hear about in today's edition. Search "Kate Whiting and Cherry Pie" at overdriveonline.com too to catch more images of the rig, likewise, that video I mentioned earlier.
As far as the resto community is concerned, Rich is absolutely right about the pride and camaraderie that just flow from it like water. Well-evident in our longtime coverage of various restorations, truck shows, and the reader rigs we highlight week in and week out and Reader Rigs Gallery.
Rich Guida: What really caught our eye is, when talking with Kate, is how the community helps each other out. Whether it's finding a part or a technique for salvaging something. I mean there's just so many knowledgeable truckers out there who are really passionate about this, and it's kind of cool. Of course we love it as diesel additive manufacturers to see these engines that are still going strong. I'll let Kate tell you, but I mean Cherry Pie's, that truck's going back to work. You know, she's almost done showing it off, and it's ready to become a working truck again, which is amazing. I mean, it's 50 years old and it's just such a cool vehicle. It really is.
Todd Dills: What's more, Kate Whiting's story in trucking too is wrapped up in the passion for this and other trucks, as you'll hear. Today, she's hauling in a different W900 for Jerry Linander, running mostly furniture in an operation that gets her back home most days at the farm. She's done plenty more OTR work too though, as Linander early on urged her to learn the business for herself before she found her way back to his small fleet.
Kate Whiting: "I'll be here. I see you got the bug, but you got to decide you want this for yourself, not just because I make it easy for you." What really fascinated me when I was learning about the trucking and talking to different people and their companies is I really liked what he did. His guys were, all stayed really local. They were busier in the winter than in the summer, which worked awesome for what I do because I have the cattle and the horses.
And I kept thinking, "Man, that would be a really great trucking job." And he's like, "Nope, you've got to go and out there a little bit and experience it before you start thinking we're going to start hauling furniture." But yeah, and you know what, I thank him for that because it really did give me some great experiences of what trucking can look like other than just this one experience.
But anyway, so yeah, the driving, I love it. I love the driving. Of course, I started then in the straight truck and then built myself up to my own W900 now that I drive. And it's just a ton of fun, a ton of fun. I enjoy being out here every day.
Todd Dills: On the other side of a break, the rest of the story about the resto of one beauty of a Cherry Pie, Kate Whiting's 1973 W900A, the latest member of the Howes Hall of Fame. Stay tuned.
Speaker 4: Love your Diesel? We get it! Protect your investment and maximize performance with Howe's Diesel Defender. Increase towing capacity, torque, and power. With Howes, you'll hear the smooth rumble of a clean and well-lubricated engine in no time. Oh yeah. And Howes Diesel Defender will increase your fuel economy by 5% or more... guaranteed. Howes Diesel Defender, for every diesel.
Todd Dills: Find plenty more information about Defender at Howes, that's H-O-W-E-S, howesproducts.com. Here's Owner Operator Whiting, setting up the story of the Cherry Pie 1973 Kenworth W900A.
Kate Whiting: I was working as a health coach, I've kind of been out there a little bit, and I just was helping truckers with their med cards. And I attended a show in Eau Claire, Wisconsin, my very first truck show. And it was just really eye-opening to just be exposed to show trucks. I just wanted to just find truckers. I just wanted to be able reach out to more truckers and attended the show. And that was my first introduction to show trucks and the world.
So I was sitting there hanging out with some of the drivers, Jerry specifically, and he just said, "Hey, if you really like this, you're going to want to attend Big Iron, the Big Iron Classic there in Kasson, Minnesota." He says, "There is, it's 600 trucks out there, plus it is amazing. Some great people, you're going to want to check it out."
And so when I got there, again, overwhelmed. Overwhelmed with what I seen, and again, that connection, that connection these drivers had with their trucks, so many amazing people. And at that show then, Jerry smarted off and said, "Well, you're a farm girl, you want to drive it in the parade?" And I'm like, all right, be careful. I'll take you up on that. And so that was my first time behind the wheel then was at the Kasson show driving his W900 in the parade.
Todd Dills: Quick reminder, the reference to Jerry here is to small fleet owner Jerry Linander, mentioned earlier.
Kate Whiting: And it was incredible. Of course we were at the back of it, so I didn't mess anything up and just bobtail, of course, and it was really a cool experience. And yep, and that of course, that is in the fall of the year and going in through the winter, then I was opened up to helping a lot of owner operators with the coaching. And it just, again, constantly, you don't know how hard it is out here. This is you're telling us to eat this many times and eat this kind of food and really difficult out here.
Also at the same time, some of the places I was helping were saying, "Hey, if you had your CDL, we could really use some help now and then, some relief driving, things like that." And that just kind of sparked in my mind that, "You know what? That might be something worth going for."
And so that next year then, going into my first show then the next year, because again now I got the bug. Then that following spring I went out to Wheel Jam, then was my next show. I kind of got the bug and wanted to help Jerry then show his truck. And it was just, again, more and more of, you know, they're the Jake Brake contest.
It's like, "Oh my gosh! These are just amazing. These are just so cool, I'm having so much fun with this." And again, more great people, more of just that, the picture, the bigger picture. But also what happened though at Huron was I started noticing that I was picking out one certain kind of truck that was really my thing. I was just like, "Man, I really liked that truck." And he'd be like, "Well, you like the As." And every time I go to another show I'd be like, "Oh my gosh, those are just awesome trucks." He's like, "You really like As."
Todd Dills: The classic A model Kenworth W900, she means.
Kate Whiting: And so all it took then was a couple months after South Dakota there, I was just driving a road I go down all the time back home and lo and behold, it's like, "Brakes, hit the brakes, hit the brakes! There's one of those trucks!"
And you know, don't notice white cars until you see, until you own a white car kind of thing. So it was one of those that this --
Todd Dills: Where was it?
Kate Whiting: It was just about 10 miles down the road from my home. Yep, right there in this, right in the driveway, in the front yard had been sitting there. I stopped right then and there and went and I was, like, taking pictures of it and all this. I didn't worry about if where the owner was or what the story was. I just had to jump out and take a look at this truck. And then got to talking to Mike and the owner of the truck and older gentlemen, and-
Todd Dills: That would be former owner Mike Orton, then retired.
Kate Whiting: ... the truck had been parked there for quite some time at that point.
So I definitely had been driving past it, but it's just, again, I just never noticed it. Really just fell in love with the truck and decided to talk to him about buying it and get him thinking about all that. And it took about a year to convince him to sell the truck. But in the meantime then, I really had motivation now to get my CDL.
And so I went ahead and reached out to one of the fellow drivers I was helping, if that was a husband and wife driving team. And I reached out to her and asked her, "Hey, how did you get your CDL? What did you go through?" And she helped coach me through the preliminary steps of getting your permit, things like that.
And then a couple of the places that I had been working for helping with the coaching helped me get my driving practice in. And so within less than a year of driving my very first truck at that parade, I had my CDL.
Todd Dills: Wow. That's a quick turn for a health coach, right?
Kate Whiting: Yep, my very first truck show was 2014. That was the fall of 2014. Then that year I seen Cherry Pie was 2015, that I believe that was like June, July, 2015. And then, so that was then August of 2015 that I had my CDL. And let's see here. And then by July I just came up in my Facebook memories of July here of purchasing Cherry Pie. So, in 2016 ... that is when I got her. Yep. Yep.
Todd Dills: Yep. And the restoration process or the changes that you made, that went on for some time, right?
Kate Whiting: Yeah, you're right. So what was pretty fun then in 2016, my first truck show then of course, what it was at the very first truck show I ever went to then, was I was able to bring her to Eau Claire, Wisconsin, and show her off as the cute little day cab she was. And enjoyed it from there, did a few truck pulls, had a lot of fun with that.
I was pretty green at all that of course. But she had that 3408 there, so I had to have a little bit of fun pulling up that. Warm the clutch up a few times.
So yeah, it was pretty fun. And then it just started, you're attending enough of these shows and you're seeing more of these different trucks, and you kind of get to thinking how fun it would be to kind of redo it, and maybe put a bunk on her and things like that. Just kind of think of little things you want to do to kind of stiff her up a little bit.
And it just kind of took a life of its own. We found a really cute bunk here locally in Tomah, Wisconsin, which was about 60 miles away, and it was the Double Eagle. And again, really iconic for the era. And so we really wanted to put the Double Eagle on. So then, you know, just want to match the paint and we give her a freshen up. And I remember Jerry calling and saying, "Well, everything's apart." And I'm like, "What do you mean 'everything's apart'?" He's like, "Well, we're down to the frame rails." And I'm like, "Whoa!" Honestly, I hung up on him. Terrified!
Terrified what all that meant because I'm just so new to all this. And it was just, our painter kind of went rogue on us. We just had it in just to get the frame rails done and just kind of clean it up a little bit and just match paint so that we can put this bunk on. And he just started tearing it apart. And Jerry went to check on it and everything's on the floor. She was tore down, and we kind of had to face the fact that, "Okay, well, we went this far," then it's like, "You might as well go a little further, and a little further, and a little further."
And that's just what I mean by it takes the life of its own.
This is kind of going now through Covid, all the challenges of locating parts, finding places to help put it together, or excited. We were the ones that put it together. But I mean, just places to get some help with and things like that. Just had its own challenges with Covid.
Todd Dills: Sure. Is this still the same original engine in it?
Kate Whiting: She came with a 1693 originally, and what's fun having this truck be a local her whole life is I've had the great privilege of being able to chit-chat with the guys that used to drive her back in the day.
Todd Dills: The original owner, Kate said, told everybody no one would ever drive his new truck, according to some of the older drivers. But shortly after purchasing it, a heart attack had taken him off the road and he was forced to putting drivers in the rig.
Kate Whiting: One fella in town here, says, he goes, "I was in the truck when we blew up that original motor, but I was not driving." He goes, "I promise you I was not the one driving."
Todd Dills: Yeah, I mean, that's wonderful, there's a lot of history there, right?
Kate Whiting: So Mike himself is very resourceful, and so he also did dozer work, and so they ended up putting a CAT motor from a dozer into her, and that's where the 3408 then comes from. Mechanically, Cherry Pie is currently exactly how I purchased her. He had the Neway suspension put in already, which is unique to that truck. She's never been stretched, so that is original wheel base on her, the 08. She even had the pipes on her when I bought it.
He really had a lot of pride and joy with this truck. She just had sat for quite some time and hadn't been used for a good number of years. And so, but he had a lot of pride in reviving her and had her looking pretty adorable there.
Todd Dills: And when did you get the current state of this truck finished? How long did it take?
Kate Whiting: Yep, so from the time we started tearing her apart to when we finally got the pieces back from the painter, it was three years. She sat with just the rails and the motor in the shop for three years before we got the cab bunk and hood back from our painter.
And so, yeah, that's a whole nother story. But I have the interior completed and it was laying in the office floor for two years-
Todd Dills: Wow, just waiting.
Kate Whiting: ... prior to this. And so we had all these components ready to go, but we just couldn't seem to get her back from our painter. And again, it just is a lot of challenges when you're going through, like I said, with Covid and different things like that. And so, but the minute we got her back and we got her back in January and that would be of '22, we got her back January '22.
And we all looked at each other, that's just family, friends, Jerry, all of us, we were like, "We can do this. We can have her ready for Matt by March." And all she was was pieces. We dedicated every night, weekend. We used up all our friend cards.
Everything from Jerry's sister helping make meals to so that at least people got a meal when they came to help. Because that's all they came, they got a soda and a meal for helping. And we just stayed really focused on, "We can do this." And I really, hats off, nobody gave up. I mean there's times it was looking absolutely hopeless, but nobody ever said, "We can't do this."
And it makes me, tears me up a bit because we just worked so hard, and none of us had ever done something like this before. And we just had such an amazing community and resources that just stepped up and said, "We can do this."
Todd Dills: You know, that community of folks that are into truck restoration and into history, whether they're working the trucks or not, it is a real thing, right? And it sounds like that's a big part of what made this happen. You guys turned that thing around in two months and never had done this before. Obviously you had tons of help.
Kate Whiting: Absolutely. And yeah, you're reaching out to the staples of the restoration community and you got Spencer's out there in Pennsylvania, I believe they are. And we're reaching out to them. You're looking for different parts, looking for some support. The community that put together things on YouTube.
I mean, our dash wiring was in a wad on the floor. And we had Gary's brother-in-law just sit and work on that, that was his main focus was just trying to get all our wiring. But it's because other people had put out some information prior and you can reach out and you can turn to the Internet and Facebook and the groups that have done it and get that help and support and where do we go from here? What do we do next?
That Monday before we headed out for Louisville there, we still didn't have seats, we didn't have mirrors on the truck, we didn't have the air cleaners, we didn't have the air system on, nothing. And we just worked until about 2:00. Well, then Monday night, Tuesday morning, and we just all just looked at each other and said, "Well, it's either now or never, and let's just load up and leave."
And it was very emotional, I mean, none of us had had sleep, I swear. And we got there. And when we pulled into Matt's, would've been Tuesday evening, and mind you, it rained down this Wednesday morning.
We drove through rain. It didn't matter at that point. We were just so grateful to have made it and actually just to grace the arches and to be amongst so many amazing trucks and to just accomplish this even though we weren't as right as we wanted to be. I was so excited to share her with everybody and just am proud of being there and what we pulled off.
Our first year, we competed in, of course, antique and paint and motor, and we came home with the first place paint. And that just, it was amazing. It was an amazing feeling because for so many reasons is, you work so hard to be so careful when you're working around these trucks and they've got these beautiful paint jobs on them. And we worked so hard with our pin striper. We had all the pan painting on the truck.
And you're just so, so careful to not create a ding or have a problem happen, but you're also having to hustle, and to get some projects done. And again, hats off to the amazing people that helped because it would've just been one dropped wrench and we'd have been out of the game. And so, you know, one time you dropped your reg, and instead of switching up, you've used the same reg and you shouldn't have.
It's just, something so simple can change the whole trajectory of the project and, just amazing. It is an incredible feeling to be honored and recognized for all the work that we put into it.
Todd Dills: You know the rest. The awards continue to pile up for Whiting and Cherry Pie, not least the recent induction into the Howes Hall of Fame. Kate Whiting garnered some more hardware at the Walcott Trucker's Jamboree just about a week ago too. It was among the rigs in Kenworth's hundredth anniversary parade in Chillicothe earlier this year, when the 1973 model was turning 50 years old itself.
And as Rich Guida intimated earlier, there's plenty more in store for the truck, if nothing else, on Kate Whiting's farm in Wisconsin.
Kate Whiting: We purchased a 1974 Cattle Pot just to kind of match up to her. We're going to work on restoring that. It's in pretty good shape right now. We're going to finish restoring that through the winter and yeah, I've got cattle, I've got farming, and we're just looking at, we don't want to just put her in the corner of the shop.
She's beautiful, we'd like to get her out there, but we also realize that it's, there's still an honor in working these beautiful old trucks. And so we're going to see where all that lands. Absolutely.
Todd Dills: Here's a big thanks to Kate Whiting and Rich Guida for their time, and the Howes company for its continued support of Overdrive Radio. Find more about Howes at H-O-W-E-S, howesproducts.com, where you can access the virtual hall of fame to read more about Whiting as well as eight other members of it.
I'll post a link to it in further coverage at Overdrive of the W900A in the show notes, wherever you're listening. Overdrive Radio is on Spotify, Apple, and Google Podcasts, SoundCloud, most anywhere you can get podcasts. Big thanks to you for listening.