Trucking news and briefs for Friday, Sept. 1, 2023:
Used truck sales declined in July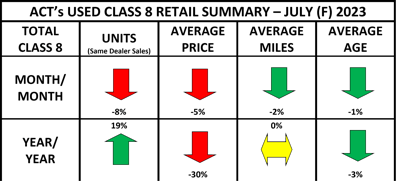 Used Class 8 retail truck sales declined for the first time in three months in July, falling 7.8% month over month, according to the latest report from ACT Research. The good news is that prices continued to come down, losing 5% in July from June, while mileage of sold units decreased 2% and age 1%. Longer term, average sales volumes were up 19% from the same month a year ago, and price and age dropped 30% and 3%, respectively. Miles were flat.
"Sales usually dip a percentage point or two in July, so the decrease was in line with but greater than expectations," said Steve Tam, Vice President at ACT Research. "Including auctions and wholesales, the total market volume fell 28%" in July from June. "Compared to July 2022, the retail market was 19% larger."
Since July, some clarity has surfaced regarding two potential market-moving situations, Tam said.
"The UPS Teamsters ratified their contract, avoiding a disruptive strike," he noted. "Closer to home, the bankruptcy of Yellow appears to be progressing in a disciplined, methodical, and orderly fashion. The company owns more than 14,000 trucks (primarily Class 8 day cabs) and nearly 45,000 trailers."
Tam said if that equipment was all "dumped into inventory at one time, the result conjures up images of a piranha feeding frenzy. While it is still very early in the process and there are no guarantees, this approach should help to minimize the negative impact on used equipment values."
[Related: After Yellow's shutdown, trucker Chris Dowdy and his family pick up the pieces]
South Dakota truck parking areas closed indefinitely
Drivers traveling along I-29 in South Dakota this week may have noticed the Hidewood truck parking sites, located about 15 miles south of Watertown, have been closed.
The northbound and southbound sites closed Monday, Aug. 28, and the South Dakota DOT said "there is currently no scheduled reopening date," adding that the sites "will remain closed until further notice."
The reason for the closures, SDDOT said, was for crews to "perform cleaning activities and maintenance work."
[Related: Greyhound smashes three parked trucks: HOS, parking shortage to blame?]
TA names new CEO following BP acquisition
TravelCenters of America announced that Debi Boffa began her tenure as Chief Executive Officer Friday, Sept. 1.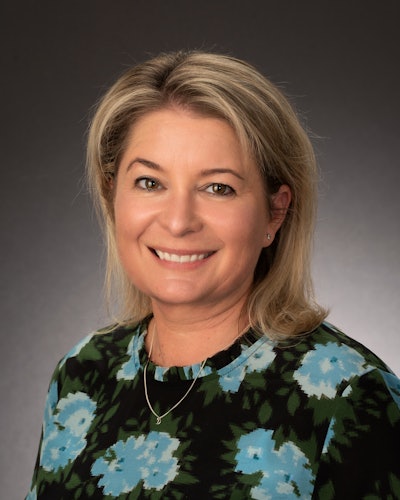 Boffa was appointed TA's CEO-Designate in May 2023 upon the acquisition of TA by BP. She succeeds Jonathan Pertchik, who served as TA CEO since 2019 and led the company through a period of transformative financial growth and positioned TA for the future of alternative fuels, the company said.
Boffa is a management executive with more than 25 years of experience with BP across many sectors, including engineering, retail, sales, marketing and operations. Most recently, she served as President of both BP's Retail Operating Organization and Thorntons LLC, leading the integration of BP's ampm business with Thorntons while concurrently overseeing the operations of more than 1,200 convenience stores nationwide.
BP closed on its acquisition of TA on May 15. Its more than 280 travel centers will keep the TA, Petro and TA Express brand names.
"I am excited to lead TA through its next chapter as a new member of the BP family of brands," said Boffa. "We have strong growth opportunities and I look forward to working with our team members to provide guests with the fuel, food, truck maintenance and other expert services they are accustomed to, while adapting to their changing needs and supporting them at every stage of their decarbonization journey."
[Related: TA closes deal with BP]