Trucking news and briefs for Wednesday, Sept. 13, 2023:
Research sees big growth for electric powertrains over next wo decades
ACT Research said in a new report released Tuesday that half of commercial vehicles will be "zero-emission" vehicles (ZEVs) by 2040.
"We forecast a relatively low adoption rate from 2024 through 2026, reflecting the fact that [battery-electric] sales of commercial vehicles are still in their early years," said Ann Rundle, vice president of electrification and autonomy at ACT Research. "This begins to change in 2027, in part due to the cost increases for diesels because of the increased stringency of U.S. EPA's 2027 low-NOx regulations. In addition, by 2027, eight states will have joined California in adopting Advanced Clean Trucks [regulations], resulting in moderate growth in adoption rates."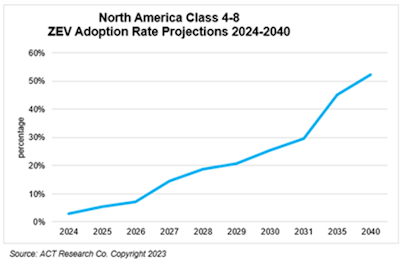 Analysts in the report, "Charging Forward," said that regulations will drive ZEV adoption in the North American commercial sector. By 2030, ACT sees 25% adoption rates as nine states that signed an MOU to adopt the California Air Resources Board's Advanced Clean Trucks regulations will have enacted those rules. It is also assumed, ACT said, that improved battery technology will negate battery replacement costs and that charging infrastructure utilization will significantly increase.
[Related: Tesla Semi real-world performance stats finally drop: Does it live up to the hype?]
"By 2040, we are forecasting that adoption of ZEVs will account for just slightly above 50%," Rundle added. "Essentially half of all commercial vehicles will be zero emissions, primarily battery-electric vehicles."
"Charging Forward" is a multiclient decarbonization analysis of the North American battery and fuel cell electric vehicle market. ACT calls it an economic-driven, bottoms-up analysis done in collaboration with leaders in battery and fuel cell technology for Classes 4-8 vehicles.
ACT said it has developed and aggregated information across North America on propulsion systems technology development, both battery and fuel cell electric powertrains; government regulations and subsidies; electric and hydrogen supply and infrastructure; and crafted a total cost of ownership model with three scenarios.
[Related: Starting with smaller ZEVs could prove to be 'a good plan']
FMCSA awards $80M in grants for truck parking, safety initiatives
The Federal Motor Carrier Safety Administration announced Wednesday more than $80 million in grant awards enabled by the 2021 infrastructure legislation to help reduce the frequency and severity of commercial motor vehicle crashes and support truck drivers by expanding access to truck parking; investing in technology; and improving safety in work zones, rural areas and high crash corridors.
The High Priority grants include a 65% increase in funding for truck parking projects over last year and enhance efforts to support truck drivers and improve safety such as:
Expand access to truck parking by helping truck drivers locate available rest area truck parking spaces in real time via dynamic message signs along highways in Kentucky, Delaware and Indiana
Research to support automated, location-based driver alerts via ELDs that inform drivers of upcoming work zones – improving safety for both the drivers and the workers
Enhancement of electronic screening technologies to detect vehicle violations (such as automated license plate readers, USDOT number readers, tire monitoring system, and hazardous materials placard readers)
Outreach and education to combat human trafficking, an effort in which truck drivers can play a key role given their time and attention on the road
FMCSA said the new grants for projects listed above build on previous Biden Administration investment in in building new truck parking spaces across the country, including:
Caldwell County, Texas: $22.9 million RAISE grant to design and construct a truck parking plaza that improves safety and convenience for truck drivers. Plaza will include short- and long-term spaces with lighting, fencing, restroom and shower facilities, with 24-hour monitored security.
Caldwell Parish, Louisiana: $10.5 million RAISE grant to buy land and build a truck parking facility near the port and a highway for 50 commercial trucks, 100 cars, and EV charging stations that are designed to provide auxiliary power units to power a truck cab's heating and cooling, without having to run the engine while also recharging trucks. There will also be a system to find parking spaces in real-time.
On I-4 Between Tampa and Orlando: $15 million INFRA grant for a new truck parking facility with approximately 120 spaces, electric charging stations, and pedestrian infrastructure to access nearby commercial amenities.
Near Memphis, Tennessee: $22 million INFRA grant adds 125 truck parking spaces at a spot along I-40—a critical freight corridor. Project will also upgrade adjacent bridge structures.
"President Biden's historic investment through the Bipartisan Infrastructure Law helps improve commercial motor vehicle safety on our roadways both at the national and local levels," said FMCSA Administrator Robin Hutcheson. "Our grantees will dedicate these investments to innovative technology, research, and other projects that will positively impact CMV safety and move us towards the National Roadway Safety Strategy's goal of zero deaths on our nation's roadways."
[Related: POLL: Just how bad is the 'parking at the fuel island' problem?]
TFI acquires Western Canadian food-grade tanker fleet
TFI International announced Wednesday the acquisition of Vedder Transportation Group, which specializes in the tank truck transport of food-grade liquids and dry bulk commodities. Terms of the deal were not disclosed.
Headquartered in Abbotsford, British Columbia, where it began operations in 1956, Vedder was one of the first companies in Western Canada to use tanker trucks to transport liquid food-grade products. Operations now span British Columbia to Manitoba. With more than 155 tractors and nearly 300 trailers, a food-grade wash rack, railcar transload and warehousing, and maintenance and repair facilities, Vedder generates annual revenues in excess of $59 million.
Run by President Fred Zweep, Vedder will join TFI International's Specialized Truckload business segment.
"For many years TFI International has been a leading provider of reliable, safe and cost-effective tank truck services to the liquid and dry bulk food-grade market in Eastern Canada," said Alain Bédard, chairman, president and chief executive officer of TFI International. "With the acquisition of Vedder, we add the premier provider of such services in Western Canada, along with a network of strategically located facilities, making TFI the premier Canadian coast-to-coast provider of food grade tank truck transportation services. We extend a warm welcome to Fred, to Larry Wiebe whose family started the business in 1956 and who remains an advisor, and to their many colleagues throughout the Vedder organization, and we look forward to watching their future success under the TFI International umbrella."
FMCSA denies Alaskan driving school's ELDT waiver request
The Federal Motor Carrier Safety Administration has denied a request from Alaska's Ice Road Driving School for a waiver from certain portions of the behind-the-wheel entry-level driver training (ELDT) requirements for driver trainees.
The driving school filed the exemption request in April, asking for an exemption from the requirements that driver trainees seeking a Class A or Class B CDL demonstrate proficiency in BTW maneuvers related to entering the on ramp, exiting the off ramp, right turns, and left turns.
The school said that because of the unique road system and challenging terrain in Alaska, it is difficult to adhere to the driver training regulations, and further explained that the road configurations lead to only a few major established safe road systems in Alaska.
FMCSA denied the request, saying that granting the request would result in drivers receiving a CDL even though they had not demonstrated proficiency in the three driving skills from which exemption is requested.
Additionally, FMCSA said it granted an exemption to the state of Alaska in December 2022 that allows the state to waive specified portions of the CDL skills test for drivers in 14 defined geographical areas that lack infrastructure to allow completion of the full skills test. Drivers who receive a restricted CDL under the provisions of the 2022 exemption are also exempt from the ELDT regulations.
The relief requested by Alaska's Ice Road Driving School falls within the scope of that exemption, FMCSA said, to the extent that drivers would not be subject to ELDT requirements if, pursuant to the 2022 exemption, they received a restricted CDL allowing them to operate a commercial motor vehicle only within 14 designated geographical areas of the state.