Trucking news and briefs for Friday, April 21, 2023:
$21.1 million of fentanyl found in truck at California border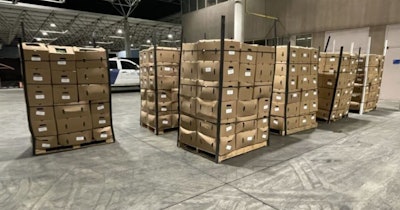 U.S. Customs and Border Protection officers at the Otay Mesa, California, port of entry intercepted 3,520,000 fentanyl pills concealed within a shipment of green beans, worth an estimated street value of $21,120,000.
On April 17 at about 7:21 p.m., CBP officers encountered a 48-year-old male driver of a tractor-trailer loaded with green beans. During an initial inspection, a CBP officer referred the load for an intensive agriculture inspection.
Non-intrusive means were utilized to conduct a full scan of the tractor-trailer, according to a statement from the agency. After examination showed irregularities, CBP officers requested a narcotic detector dog, who keyed on the presence of narcotics.
Officers discovered and extracted a total of 308 packages concealed in the load. The narcotics were tested and identified as fentanyl pills with a total weight of almost 800 pounds.
The driver was detained for the alleged narcotic smuggling attempt and was turned over to the custody of U.S. Immigration and Customs Enforcement. CBP officers seized the tractor, trailer, and narcotics.
[Related: FMCSA tells states to ban drivers with drug, alcohol strikes]
Transflo, Comdata partner on new cardless fuel payment system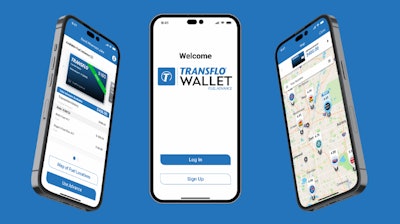 Transflo and Comdata have joined forces to develop Transflo Wallet, a mobile-app-based cardless fuel payment process.
The companies said the service will enable freight brokers to easily send digital fuel advances to carriers and drivers through a secure and user-friendly mobile app, streamlining fuel transactions.
Fuel advances have long been a challenge for freight brokers, with conventional payment methods like checks and plastic fuel cards proving inefficient, costly, and susceptible to fraud. Furthermore, traditional methods fail to help carriers effectively manage and reduce fuel expenses, the companies noted.
Transflo Wallet addresses these issues by offering a modern mobile user experience for drivers and unparalleled visibility and control for brokers.
"As we assessed long-standing issues in the industry, fuel payments emerged as the natural next step in extending our broker and carrier automation capabilities," said Renee Krug, Transflo's CEO. "Our fuel solution builds on our connected digital ecosystem to empower our customers to overcome these challenges."
Transflo Wallet leverages Transflo's mobile app technology, along with Comdata's virtual card capabilities, to enable a secure and user-friendly fuel payment, the company said. The advanced security features of Transflo Wallet protect carriers from fraud and unauthorized access, offering peace of mind and allowing them to concentrate on their operations.
[Related: Transflo aims to combat 'app overload' and increase utility for independents with broker relationships]
Alaskan driving school seeks ELDT waiver
Alaska's Ice Road Driving School is petitioning the Federal Motor Carrier Safety Administration for an exemption from the skills road test portion of the behind-the-wheel (BTW) entry-level driver training (ELDT) requirements for driver trainees.
Specifically, the school is asking for an exemption from the requirements that driver trainees seeking a Class A or Class B CDL demonstrate proficiency in BTW maneuvers related to entering the on-ramp, exiting the off-ramp, right turns and left turns.
Alaska's Ice Road Driving School requests the exemption regarding routing prescriptions that are specific to exact off- and on-ramps, and right and left turns, adding that it will aid in the safe administration of road tests by the Alaska State Department of Motor Vehicles.
The school said that because of the unique road system and challenging terrain in Alaska, it's difficult to adhere to the driver training regulations. They further explain that the road configurations lead to only a few major established safe road systems in Alaska.
The school said it believes that the road skills test for a CDL applicant can safely be administered by the state test examiner as set routes can be established and approved without the CDL applicant completing certain portions of the mandatory BTW training.
Alaska's Ice Road Driving School is seeking the exemption on behalf of itself and all state and local commercial driving schools in Alaska, as well as individuals qualified as third-party testers in the state.
FMCSA is accepting public comments here through May 22.
[Related: Training regs might miss the mark, but some are doing it right]
Love's opens two more locations
Love's Travel Stops this week announced it has opened new locations in Mansfield, Louisiana, and Harlingen, Texas. Combined, the two stores add 127 truck parking spaces to the company's network.
The Mansfield store, located off Interstate 49 at exit 172, boasts a Godfather's Pizza and Subway restaurants, 67 truck parking spaces, five diesel bays, six showers and more.
The Harlingen location, along I-69E at exit 30, offers a Godfather's Pizza restaurant, 60 truck parking spaces, five diesel bays, four showers and more.
The stores are the company's 19th in Louisiana and 79th in Texas.
[Related: Fight for your right to parking: Be a better advocate]