Trucking news and briefs for Friday, Nov. 10, 2023:
Mack strike could be near end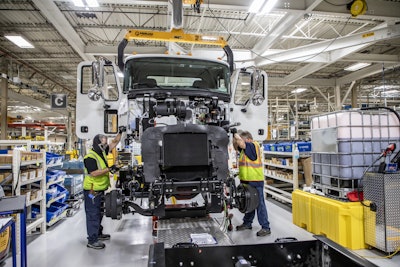 A work stoppage at Mack Trucks' assembly sites in three states could be nearing its conclusion as United Auto Workers (UAW) informed Mack that it will hold a vote next week on a five-year agreement negotiated by both sides. The vote is tentatively scheduled for Nov. 15-16.
The tentative agreement employees will vote on includes the wage and benefit package the company offered at the master contract level and tentatively agreed to by the parties on Oct. 1, Mack Trucks said in a statement, as well as a number of revised terms negotiated with the UAW on local agreements impacting Mack's Lehigh Valley, Pennsylvania; Hagerstown and Baltimore, Maryland; and Jacksonville, Florida, sites.
Per the terms of the October agreement, the average wage increase over five years would be 36%, with an average immediate wage increase for all covered employees of nearly 15%. For employees not yet at the top rate (nearly half the total workforce) the average increase over five years would be 55%, and the average immediate wage increase would be more than 20%. Most employees already at the top rate would receive an immediate wage increase of 10%, and up to 20% compounded over five years, even though company research shows that these employees are already above market rates, Mack Trucks said.
Premiums for the company's health care coverage, which have not increased in more than six years despite a 66% increase in the company's costs over the last decade, according to Mack Trucks, would remain unchanged for five more years.
With the Oct. 1 tentative agreement, Mack seemingly then side-stepped a strike, but Mack's UAW members -- 3,900 of the employees in total -- ultimately shot it down by 73%. Those workers went on strike a week later at Mack facilities in Pennsylvania, Maryland and Florida.
UAW also appears to be winding down a series of labor strikes that were ongoing simultaneously at General Motors, Ford and Chrysler conglomerate Stellantis. Those agreements are currently being voted on by local members at the individual companies. --Jason Cannon
[Related: UAW, Mack at impasse over strike]
Trucker Path offering discounted reserved parking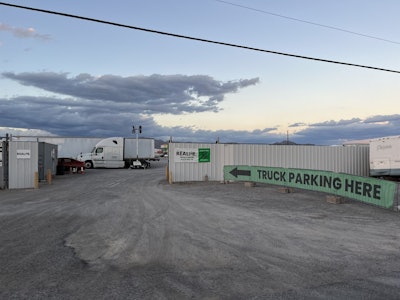 Trucker Path this week announced the latest member of its growing Trucker Path Marketplace -- We Realize Inc.
The private truck parking company specializes in providing secure, flexible premium truck parking by partnering with major venues and real estate assets nationwide.
By making reservations through the Trucker Path app, users can access secured parking at Realize Truck Parking locations for 10% off regular rates. Parking is available on a daily, weekly, or monthly basis, including drop-and-hook spots for trailers, with no contracts or long-term commitments.
"Finding truck parking is an ongoing challenge for drivers every day," said Chris Oliver, CMO at Trucker Path. "The addition of Realize to the Trucker Path Marketplace provides our community of truckers with easy access to safe, secure parking with upscale amenities in a growing number of locations and at a discounted rate."
[Related: New site to reserve trucking parking something of an 'Airbnb' for facilities]
Using the Realize Truck Parking portal, drivers can currently secure parking at Texas Motor Speedway in Ft. Worth, Texas, and at sites in Las Vegas and La Vergne, Tennessee. More locations are coming in the near future, the company said.
"We believe the truck parking problem can be solved more quickly and cost-effectively with a solution that better utilizes current facilities," said Cody Horchak, founder and CEO of We Realize. "By partnering with major venues and owners and operators of industrial outdoor storage assets, we are creating a nationwide parking network for the trucking industry by maximizing a tremendous amount of unused parking space that is already in existence. Our goal is to add over 800,000 truck parking spots by 2030."
Truck drivers interested in learning more can visit www.realizetruckparking.com/truckerpath.
[Related: Fleets want more parking, as safety groups push speed limiters, AEBs]
Iowa extends harvest proclamation increasing weight limits another month
Iowa Gov. Kim Reynolds has once again extended the state's harvest proclamation, allowing haulers of certain commodities to be overweight on certain highways.
The proclamation is effective through Dec. 11 and allows trucks transporting corn, soybeans, hay, straw, silage, stover, fertilizer (dry, liquid and gas), and manure (dry and liquid) to be overweight, up to 90,000 pounds gross, without a permit.
The waiver is applicable to loads transported on all highways within Iowa (excluding the interstate system) and those which do not exceed a maximum of 90,000 pounds gross weight. Other stipulations that must be met to take advantage of the exemption:
The load cannot exceed the maximum axle weight limit determined under the non-primary highway maximum gross weight table in Iowa Code § 321.463 (6) (a) and (b) by more than 12.5%
The load cannot exceed the legal maximum axle weight limit of 20,000 pounds
Drivers must comply with posted weight limits on roads and bridges
[Related: Certain Iowa ag haulers get temporary weight exemption]
Drivewyze expands into eastern Canada
Weigh station bypass service Drivewyze has announced its PreClear service is now available in Newfoundland and Labrador, Canada, joining Ontario and Alberta, which also have Drivewyze PreClear bypass service in their provinces.
The service is also available in 44 U.S. states, combining to offer bypass opportunities at more than 900 locations.
The Newfoundland and Labrador service allows all Canadian plated subscribed trucks to have bypass opportunities at six locations, serving nine sites, throughout the province, including:
Channel-Port aux Basques Hwy-1 NB

Channel-Port aux Basques Hwy-1 SB

Foxtrap Hwy-1 SB

Goobies Hwy-1 NB

Goobies Hwy-1 SB

Grand Falls-Windsor Hwy-1 SB

Pynn's Brook Hwy-1 NB

Pynn's Brook Hwy-1 SB

Labrador West Route 500 WB
Carriers are rewarded for their safety ratings with weigh station bypass privileges. A bypass means trucks over 4,500 kg (9,920 lbs) do not have to enter weigh stations, saving trucking companies time and money by reducing delays and associated fuel costs when a truck pulls in and out of a station.
Brian Mofford, Drivewyze's VP of Government Experience, said the bypass sites represent the busiest areas for truck traffic, especially the Foxtrap location, which is just outside of St. John's. "Highway 1 is the main thoroughfare across the Island, and most trucks take this route," he said.
[Related: FMCSA offering 'kinder, gentler' CSA safety scoring system? Not if automated inspections go live]