MICHELLE OLIVER
Occupation: Company driver
Company: H.O. Wolding
Nominated by: Brady Palmer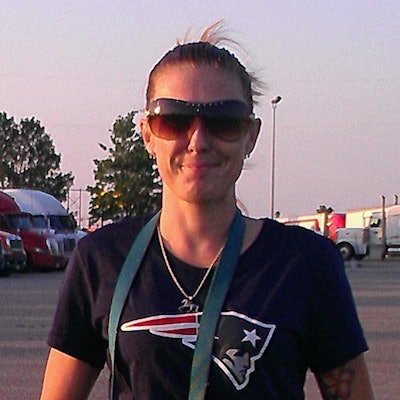 Michelle is a 32-year-old single solo company driver that is living her life long dream. After many years as a horse trainer she made the jump and entered driving school. With her goals, dreams, and a CDL, she is out here working her tail off to make them come true. After two years she accomplished her first major goal. She saved $30,000 and purchased a home on 7 acres in Tennessee where she can now keep her horse and mule. I have no doubt that her next dream is less than a year away. Michelle is planning on purchasing her own truck and running flatbed with it. She rolls with a highly trained blue healer named Libby. In all my sixteen years driving I have never met a driver with so much love for the lifestyle we live and breath. Knowing she is out there working for the same company as I do gives me a great sense of pride. She makes us all feel motivated to be better drivers. And when we have a bad day, she is always a call away with a motivating pick me up.
So, why is she the most beautiful? I don't know anything more beautiful than a women living her dream on her terms and succeeding at every turn. She is the "American Dream" in so many ways. And finally I guess I should mention she has a body that most men (including myself) only dream about. I can only imagine what it must feel like walking across a parking lot knowing all eyes are following you. After running with her for a full day once, I told her it was like chasing a rainbow all day long. She mentioned my comment as being a rainbow to her brother in front of me. Unfortunately, I lack the courage to tell her she is not the rainbow, but rather the pot of gold. She's the real deal. Thank you for considering my friend Michelle Oliver.