Update – Thursday, Nov. 3, 9 a.m.: Governors in two other states have issued executive orders to suspend hours of service regulations for gas haulers.
Georgia Gov. Nathan Deal signed the order Nov. 1 to suspend the regulations for 14 days through midnight on Nov. 15 for drivers hauling gas into the state.
North Carolina Gov. Pat McCrory signed an executive order to extend the state of emergency he issued during Hurricane Matthew.
"The Colonial Pipeline disruption is a transportation challenge, not a production challenge," McCrory said in a news release. "With my executive order, we are waiving certain state requirements to facilitate truck transport of gasoline and to protect consumers from price gouging."
Colonial Pipeline hasn't said when gas will begin flowing through the ruptured line again, but initially said it could be down for up to a week.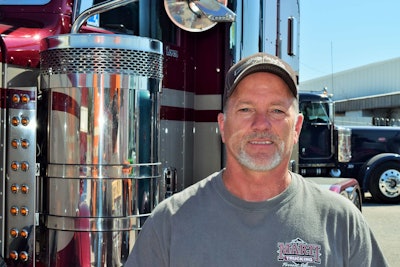 In the wake of the September spill that disrupted the Colonial line to the East Coast, Illinois-based fuel hauler Dave Marti (pictured), whose small fleet runs leased to Transport Service Inc., noted the pipeline disruption presented opportunities for tank haulers but that, in his case, getting away from primary work on short notice just wasn't possible then given the farming community his trucks serve. "We just can't get away," he said in September. With harvests slowed significantly since then, opportunities might arise for haulers within the relative orbit of the explosion.
Original story follows:
Alabama Gov. Robert Bentley issued Tuesday an emergency declaration following an Oct. 31 explosion of a gasoline pipeline in Helena, Alabama, effectively relaxing hours-of-service regulations for gasoline haulers operating in the state.
The pipeline that exploded is part of the same Colonial Pipeline that leaked in September that caused gas shortages in several states along the East Coast. The pipeline runs from Texas to New York and New Jersey. Several states issued emergency declarations as a result of that leak.
Bentley's State of Emergency declaration suspends hours regulations for any drivers or carriers providing aid through pipeline repair or fuel transportation for 30 days through Dec. 1, unless the order is canceled sooner.
Colonial Pipeline representatives said the gasoline pipeline, Line 1, will likely remain shut down the rest of this week. Line 2, which transports diesel, jet fuel and other distillates, was restarted late Oct. 31 and is expected to remain in operation.
Colonial says the incident occurred at approximately 3 p.m. local time Oct. 31, when a crew working on a permanent fix for the gasoline pipeline struck the pipeline with a trackhoe, sparking a fire and explosion that killed one worker and injured four others. The fire has since been contained.