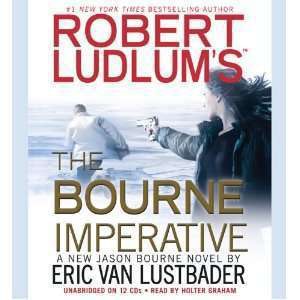 By Eric Van Lustbader
Read by Holter Graham
Hachette Audio
Available on Audible.com, iTunes, Amazon.com
Fans of Matt Damon's trilogy of films portraying the action-packed life of secret government operative Jason Bourne will likely recognize the title of this book as being part of the Bourne book series. Those who haven't read any of the Bourne books before, however, will likely find them quite different from the movies.
Eric Van Lustbader, taking over the Bourne character after Robert Ludlum died in 2001, has written seven novels in the Bourne series, the most recent being this book, "The Bourne Imperative." The unabridged audiobook is approximately 14 hours long among 12 CDs. The book is read by Holter Graham, an audiobook-performing veteran.
"The Bourne Imperative" finds Bourne fishing a man out of the water, an amnesiac with a gunshot wound on his head, much like Bourne's beginnings in "The Bourne Identity." A former partner-under-fire of Bourne's, Mossad agent Rebeka, is so determined to find this man that she cuts ties with her agency and risks being hunted by "The Babylonian," a feared killer.
At Treadstone, the agency that basically gave birth to Bourne, directors Peter Marks and Soraya Moore hunt for a terrorist assassin known as Nicodemo, but find themselves falling into a thicker, more convoluted plot the deeper they search.
If you're expecting long strings of action-packed sequences similar to those in the films, you might be a little disappointed. There is action, particularly at the end, but it is largely interspersed amidst a mass of political and bureaucratic intrigue and mystery. Unlike the films, this book focuses on several characters, as opposed to focusing largely on Bourne, who at times feels like a minor character. Also, the differences between the character voices and the narrative voice can be difficult to discern at times.
However, the audiobook remains engaging the entire time and certainly helps the time go by faster than silence. Definitely give it a listen on your lengthier road trips.