Make the most of your downtime by visiting these truck friendly spots to cool off.
For a refreshing splash
Sprawled over more than 70 acres, Noah's Ark Water Park boasts 49 waterslides, two wave pools, two "endless rivers" and more. Truck parking available, but limited, and not overnight. $33.99+tax. Take Exit 89 off I-90 in Wisconsin. 1410 Wisconsin Dells Parkway, Wisconsin Dells, Wis. 53965. Visit NoahsArkWaterpark.com.
For a desert oasis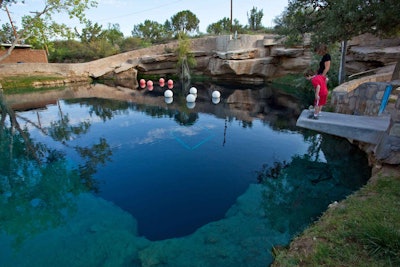 The cool, bell-shaped Blue Hole in Santa Rosa, N.M., is the perfect place for a heat-beating dip. The 81-foot-deep artesian spring-fed pool has a constant inflow of 3,000 gallons per minute and averages 64 degrees. Swimming is free and bathroom facilities are onsite. The Blue Hole is also one of the nation's most popular scuba diving spots (permit required). It is located on Blue Hole Road about one mile south of I-40 at Exit 275. Visit SantaRosaNM.org
For mountain magic
A 20-mile drive off Exit 86 of Interstate 40 in North Carolina's Blue Ridge Mountains still leaves you plenty of time to explore the many attractions of the Little Switzerland community. You'll want to dress appropriately for the outdoor activities, which include visiting the Grassy Creek Waterfall and hiking Crabtree Falls. Because of the 3,000-plus-foot elevation, the average high in August is only 76 degrees, and nights average in the high 50s. Visit LittleSwitzerlandNC.com.