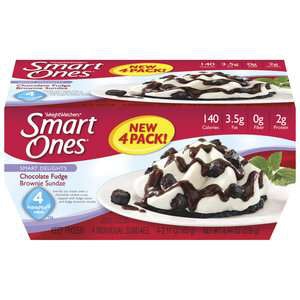 The staff here at Overdrive has picked out three low-calorie and low-fat frozen treats, because we too have trouble saying no when it comes to indulging in dessert.
Smart Ones Chocolate Fudge Brownie Sundae
This low-fat vanilla-flavored ice cream over a chocolate cookie crust topped with fudge sauce and fudge brownie chunks tastes so good you wouldn't think it's diet friendly. It's perfect to pack in your cab cooler for late-night cravings.
Calories: 140
Fat: 3.5 g
Protein: 2 g
Carbohydrates: 24 g
Sodium: 65 mg
Sugar: 13 g
Skinny Cow Low-Fat Ice Cream Cups — Strawberry Cheesecake
The best part about this cheesecake ice cream with strawberry syrup swirls is that you can eat the entire cup.
Calories: 150
Fat: 1 g
Protein: 4 g
Carbohydrates: 34 g
Sodium: 65 mg
Sugar: 22 g
Weight Watchers Giant Chocolate Cookies & Cream
A healthy, tasty treat filled with chocolate and that familiar cookies and cream flavor.
Calories: 130
Fat: 5 g
Protein: 3 g
Carbohydrates: 24 g
Sodium: 80 mg
Sugar: 15 g
You can also make your own frozen treats, such as frozen banana pops, which you can cover in chocolate for a delicious, homemade healthy dessert.
Based on a 2,000 calorie diet, the recommended daily nutritional intakes are: Fat – 65 g; Saturated Fat – 20 g; Cholesterol – 300 mg; Sodium – 2400 mg; Potassium – 3500 mg; Carbohydrates – 300 g; Fiber – 25 g; Protein – 50 g.
Consult a nutritionist or doctor for more information on your personal recommended daily nutritional intake.