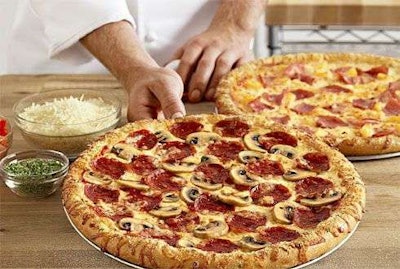 Pizza is an American favorite, and Domino's Pizza offers its customers a wide array of choices. Even though pizza should be eaten in moderation, it's hard to control the temptation of choosing among endless combinations of crusts, sauces and toppings. The following nutrition facts are for small sized pizzas.
Healthiest crust – Thin Crust (per 1/4 pizza)
Calories: 110
Fat: 4.5 g
Cholesterol: 0 mg
Sodium: 20 mg
Carbohydrates: 16 g
Fiber: 1 g
Protein: 3 g
Try the large Brooklyn style (only available Large and X-Large) crust for less fat, but more carbs and sodium.
Healthiest sauce – Robust Inspired Tomato Sauce (per 1/8 pizza)
Calories: 10
Fat: 0 g
Cholesterol: 0 mg
Sodium: 75 mg
Carbohydrates: 2 g
Fiber: 0 g
Protein: 0 g
Try the Hearty Marinara sauce for less carbs and more sodium.
Healthiest meat – Philly Steak (per slice (for thin crust, 1/4 pizza))
Calories: 10
Fat: 0 g
Cholesterol: 5 mg
Sodium: 60 mg
Carbohydrates: 0 g
Fiber: 0 g
Protein: 2 g
Try chicken for more protein, but more calories and sodium.
Remember that veggie options are available, as are cheese pizza and no cheese pizza options. Domino's allows for a lot of personalization with their pizzas. Just try not to add too many at once.
Based on a 2,000 calorie diet, the recommended daily nutritional intakes are: Fat – 65 g; Saturated Fat – 20 g; Cholesterol – 300 mg; Sodium – 2400 mg; Potassium – 3500 mg; Carbohydrates – 300 g; Fiber – 25 g; Protein – 50 g.
Consult a nutritionist or doctor for more information on your personal recommended daily nutritional intake.