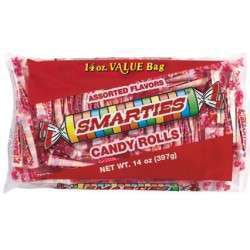 Making healthy Halloween candy choices can be a scary proposition. After all, the miniature-sized, chocolate-covered bites can't be all bad, can they? The answer depends on how many bite-sized morsels you eat and the surprising number of calories and fat jammed into those little pieces. We are not trying to suck the fun out of Halloween but we thought you might want to compare some tricky treats! We looked at calories and fat for our comparisons.
Dum-Dum Pop
Calories: 25
Fat: 0 g
Sugar: 11 g
Peeps Ghost
Calories: 28
Fat: 0 g
Sugar: 26 g
Smarties candy roll
Calories: 25
Fat: 0 g
Sugar: 6.3 g
Tootsie Roll Midgee
Calories: 23
Fat: .5 g
Sugar: 3.1 g
Laffy Taffy miniature
Calories: 30
Fat: .4 g
Sugar: 27 g
Twizzler Strawberry Twist (individually wrapped)
Calories: 40-47
Fat: .4 g
Sugar: 16 g
Based on a 2,000 calorie diet, the recommended daily nutritional intakes are: Fat – 65 g; Saturated Fat – 20 g; Cholesterol – 300 mg; Sodium – 2400 mg; Potassium – 3500 mg; Carbohydrates – 300 g; Fiber – 25 g; Protein – 50 g.
Consult a nutritionist or doctor for more information on your personal recommended daily nutritional intake.