A wise man once said, "Any restaurant that has the balls to put a sign that just says, "EAT" o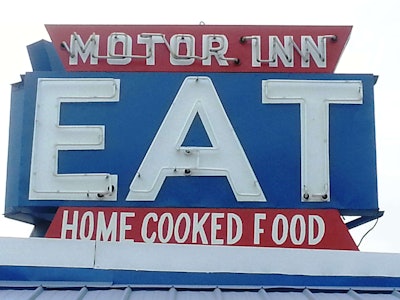 ver the top of it probably has good food." (Actually, my brother said that, but no one knows who he is, so for general purposes he's a wise man now. You're welcome, Brother.)
The Motor Inn and Family Restaurant, located at the intersection of State Routes 33 and 127 in Mendon, Ohio, is just such a place. This rural truck stop carves 15 acres out of the corn fields to offer a true mom-and-pop experience.
Referred to as "The Corner" by locals, this piece of land has served as a travel stop for as long as anyone in Mercer County can remember. In the summer of 1939, a tragic accident involving a car and a semi caught the whole corner on fire and burned the original Motor to the ground. The current truck stop was immediately rebuilt in its place.
When we stopped at the Motor, I was pouty and my sparkling personality had ceased to function properly. It was my first time out, I was missing home and I was completely pissed that we had run out of drive time only two short hours from home. My husband assured me the experience at the corner would make up for not getting home. I made up my mind to be pouty and miserable about the whole thing. I did not have an open mind.
There were less than 10 big trucks in the sleep lot, but the parking lot in front of the restaurant was full of cars with local tags. We went into the convenience store, which is attached to the restaurant. I was surprised at the variety of gift cards available in such a tiny place. My husband was surprised at the electronics room, he found it well-equipped and thorough. The staff was extremely friendly, and treated us like they knew us, which helped me miss home a little less. I might have actually smiled at the clerk, but I won't admit it. It was becoming increasingly difficult to remain pouty.
We stocked up on regular trucking needs, snack cakes, pop, smokes, beef jerky – the staples of life on the road. We debated for about three seconds on whether or not to get a slice of Hunt Brothers Pizza. We decided to sit down for a real meal at the restaurant instead.
The place was packed. The smell of stir fry was the first thing I noticed. It was in complete contrast to the decor, which was as "fried chicken" as you could get. Everything was polished wood and gingham. We were greeted by a friendly waitress, who informed us the special for the evening was chicken stir fry. I almost laughed at how funny it seemed to have a weekly special of chicken stir fry in a teeny country town, but then I remembered I wasn't going to sparkle, and stifled the chuckle.
I opened the menu and immediately noticed the first three choices in the dinner section: fried chicken (I knew it), rabbit (half or whole), and frog legs (please don't let any gross frogs touch my food). My husband saw the same thing at the same time.
"So, you're getting frog legs?"
"I'm sorry, my mother doesn't allow me to eat amphibians."
"Oh come on, you get the frog legs and I'll get the rabbit."
"I will eat frog legs when Kroger runs out of ground beef. And everything else edible."
One of the locals, who heard our entire conversation, as the dining room is small and no place to have a private conversation, leaned over and assured us both the rabbit and frog legs were equally delicious. He went on to tell us there was a time when both were fresh from Ohio, but he thinks they're frozen now. "No one takes time to hunt anymore, they just grow animals, ya' know? Kill em', put em' on a truck and zip-zip you got frog legs."
I politely thanked him and made a mental note to refrain from talking about anything I didn't want the entire town to hear. (We almost got kicked out of a Denny's in Virginia because someone overheard me saying, "Hit me again Ike, and put some stank on it!" They thought we were having a domestic incident, and I was simply asking for more bacon.) I also made sure to put 'frog farming' into the mental Rolodex for the next time I had a few minutes to Google random things.
The menu included a ton of comfort food and ranged from salmon patties to tapioca pudding. I had a hard time choosing between hamburger steak and catfish strips. I ultimately chose the hamburger steak, because it can be slathered in brown gravy and I'm completely nuts about brown gravy. It's my secret ingredient. It also happens to be the only thing besides spaghetti sauce I will allow to be spread on my food, as I do not eat condiments of any kind. (See Coupons and Crawly Things). My husband got a bacon cheeseburger with fries and a Pepsi.
The food arrived quicker than I thought it would, and smelled like heaven on a plate. My hamburger steak was cooked exactly as I ordered it. It was a good, quality piece of ground beef, just thick enough to not be overwhelming. I'm pretty sure the mashed potatoes are homemade. I was just slightly disappointed with the brown gravy, but I'm a connoisseur of brown gravy, as I have mentioned before. It had a great taste, but was just a little too thick.
It was certainly good enough for me to woof down a pile of meat, my mashed potatoes and a few of my husband's perfectly golden and crisp crinkle-cut fries with it liberally applied to all. The dinner roll was Parker House style, which, for obvious reasons, is my favorite dinner roll. I couldn't help myself. I felt supremely fat and happy.
My husband enjoyed his burger (I wanted to taste it, but he defiled it with ketchup, so I have to take his word for it). The fries were beautiful. Seriously, when you go to french-fry heaven, these are the kind of fries you get. Thick crinkle-cut, deep fried in some delicious fatty oil to a perfect crisp with an interior that will sear your lips if you try to cram them in your mouth like a starving person. (This may or may not have happened to me.) As good as the mashed potatoes were, I wished a thousand times I had gotten the fries. I will probably just order a giant plate of fries and some thick brown gravy for my meal next time because I'm an adult and I can.
We were both too full to be talked into having a slice of pie. The sweet, perky waitress tempted us with her promises of fresh baked apple dumpling with sauce. She even offered ice cream. It was tempting, but we waddled away while we could muster the will power. It was too dark to take a walk, the sleep lot had adequate light for parking, but not enough to make the periphery seem inviting. We were tired and full, and I was finally over my fit of assiness. I still missed home, but I felt content.
We were able to sleep with the vents open and the truck off. It's really quiet. It seemed like the majority of people staying in the lot had been there before and everyone had a mutual respect. The restrooms and convenience store stay open all night, but the sleep lot is far enough away from the store to keep from hearing the traffic. We both slept really well.
We woke up about two hours before we could roll legally. We both decided we had eaten far too much for dinner to enjoy an extravagant breakfast and opted for a couple of biscuits to go. The overwhelming smell of bacon almost made me change my mind, but I only ordered biscuits and savored the smell while I waited for my order. I mentioned to the nice lady taking my money how much I had enjoyed my stay and how much I appreciated places like this.
Deb Berry, the manager and an employee of the Motor Inn Restaurant for 35 years, seemed genuinely happy to know I had a good experience. She immediately took time out of her busy schedule to offer information about the place. She told me the restaurant was leased from the owners of the truck stop, and had been by the same people for the past 16 years. She's worked there since high school, and says it really is a family style place. The food is home cooked and hasn't changed much since she started working there.
I took information from her on how to contact the owners, Rex and Deb Bragg, so I could thank them personally for their hospitality. When I talked to Rex on the phone, it was immediately evident that he's completely invested in making sure everyone who visits the corner has a good experience. He told me he wasn't just the owner of a truck stop, but up until a few months prior to our conversation, he was also the fuel hauler for his own pumps. He knows both ends of the business and knows what's important to drivers. He remains competitive with the big guys by being a member of the Roady's family of truck stops, which is a co-op for independent owners that gives them buying power like the giants, so they can keep their fuel prices down.
When we left that morning, I was sparkling like a holiday. I still missed home, but had absolutely enjoyed the next best thing. When we've been on the road a while, I sometimes come close to losing faith in human beings in general. Places like The Motor not only restore my faith, but make me thankful to be able to experience them.