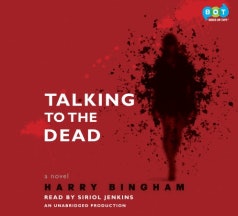 By Harry Bingham
Read by Siriol Jenkins
Books on Tape
Available on BooksOnTape.com, Audible.com
Murder, crime and conspiracy: They're far too common in the world today, but, in a twisted macabre way, it can certainly make for an intriguing, emotional and harrowing story. What can make the story more interesting is when the mystery and intrigue comes from the person investigating the crime.
"Talking to the Dead" by Harry Bingham is crime thriller, this one from across the pond in the U.K. The crime seems unfortunately standard, a prostitute and her 6-year-old daughter both killed in her home. But things start getting strange when the credit card of a supposedly long-dead steel tycoon is found in the house as well. While most of the cops try to treat the case as a standard homicide, Detective Constable Fiona Griffiths, the most junior officer on the case, looks deeper into what may be a vast world of murder and other crimes.
What makes "Talking to the Dead" most interesting is the first-person point of view from someone that is entirely a mystery. D.C. Griffiths has a past that is revealed to us early on simply by saying, "She has a past." Her odd nature, awkward social interactions and simple quirkiness create an intriguing character, made even more interesting by the fact that we're hearing about it from her perspective. What's more, she refuses to talk about her past, such as her possible breakdown that everyone knows about, but no one knows exactly what it was. Or the time she broke a man's hand and knee for grabbing her breast, something a 5-foot-2-inch woman with limited martial arts training should've had more trouble doing.
Read by Siriol Jenkins, who does a decent job of differentiating men's voices from women's, the nine-CD audiobook is just barely more than 11 hours long. It actually goes by pretty quickly, especially if you enjoy crime novels and main characters that are quirky enough to keep you entertained and interested, but not so weird as to make things uncomfortable. If you enjoy crime thrillers and want a fresh new take on a main character, this audiobook might be worth your time.