To enter your pet into the Most Loved Pet contest, click here. 
Hailey Mae: Black Labrador/Golden Retriever mix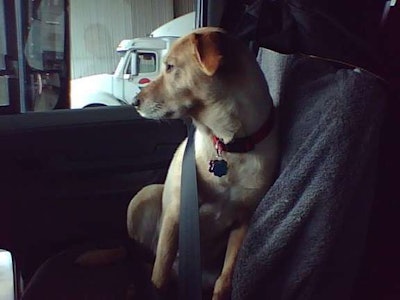 Hailey Mae is one of the most friendly, yet protective "person" I've ever had the pleasure of being around. When I start packing my bags at home to head out she is right by my side, which she is all the time anyway. However, when it's time to leave out, she is beyond SUPER excited to go. Sometimes more excited than I am. At almost 10 years old she has logged over 800,000 accident free miles and seen all of the 48 United States, 5 Canadian Provinces, and has sailed across Lake Michigan aboard the S.S. Badger Car Ferry 12 times. We have witnessed some great sunrise and sunsets, nice and nasty weather together, but she always desires to be moving and on the go. She is happy to greet anyone and make new friends as long as it's outside the truck. If she's inside the truck, she is VERY protective of me and the truck. She keeps me awake and alert by requesting attention at just the right times and knows how to "read me" most of all and be there when I need it the most. Besides the passenger seat she also has her spot on the bed which works well to keep me extra cozy throughout the winter months. The most unique trait she has is to somehow KNOW when I am looking out the right side mirror. She will always move her head out of the way. As soon as I shift into reverse to start backing in somewhere she presses herself flat against the back of the passenger seat to "maximize" my view. Once we are done with our 3 to 4 week run and headed home she is happy to take the "down-time" as much as I am. After a few days though, the cycle starts all over again! I know dogs can't live forever, but this little girl has had a tremendous impact on my life from the first day our paths crossed and will be deeply missed when she has to hang up her CDL and retire.
Charles Krogstad
Owner-operator | Michigan Lakes Transport