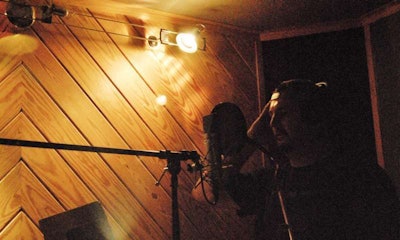 Regular readers will remember my bits of reporting as a fly on the wall during initial sessions here in Nashville for trucking singer-songwriter Tony Justice (pictured). At the time, he was off the road for several weeks to work on a new record, which I can report is on its way to full availability in December. For now, he says, he's back behind the wheel as everything continues to proceed on the record. We've got an exclusive sample of the pop-country track I mentioned back in August, "The Big Road," written by Chris Wallin originally with Trace Adkins (Adkins shares writing credits) in mind, in the vid below.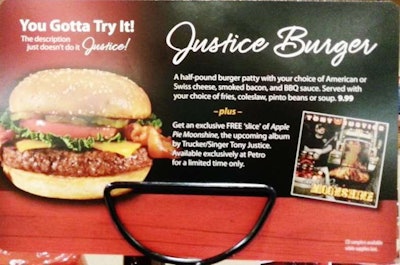 Meanwhile, if you've dined in an Iron Skillet over the past week, you may have noticed something called the "Justice Burger" being promoted on the tables and elsewhere. It's a half-pound burger with hickory-smoked bacon, Swiss cheese and a choice of other toppings that also comes with a sample CD featuring tracks from the upcoming record, "Apple Pie Moonshine," and one track from Justice's prior "On the Road" effort.
Get it while you can. The Fontana, Calif., Petro location, Justice says, is already out of the 100 CDs he sent them.
And stay tuned for more on the record. Meantime, enjoy "The Big Road." I know I do:
[youtube saICJMDvqqY nolink]