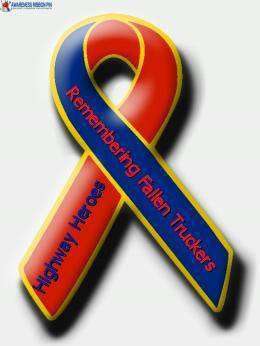 A Facebook event page launched by owner-operator Dave Lippert is calling on users of the social media network to change their profile pictures this Friday, November 1, to feature the ribbon pictured at right in memory of and dedication to drivers who've come before. What's more, the "National Fallen Truckers Memorial Day" event page notes, "It is asked that every trucker at 1200 sharp, wherever ye be, give a nice long blast of the ol' air horn in memory of all truckers who have gone."
The event had garnered nearly 200 participants at press time, and follows in the wake of a petition launched more than a year ago by Melissa Peranteau, a "proud trucker's wife," to request the U.S. government create a National Day of Remembrance for drivers.
November 1, Lippert's event page notes, coincides with the beginning of the holiday season, which can be a stressful time for families who've lost loved ones, and is "set aside to let the families know we offer them our mutual support during their time of sorrow" remembering their highway heroes. "Our prayers go out for the Lord to send much comfort and mercy to each one as individuals take the event a different way. We also wish to thank each one for serving our nation despite all the difficulties involved."
Drivers can join the event or find out more via this link to the page on Facebook.