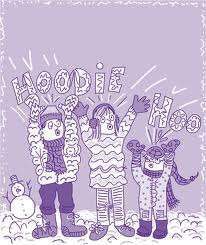 Holiday season is upon us, and whether or not you like it, people are in celebratory moods everywhere. Everyone is familiar with the big three — Thanksgiving, Christmas, New Year's Day. But were you aware you may be missing out on the Hoodie Hoo Day festivities?
That's right, Hoodie Hoo Day is a real, copyrighted holiday, celebrated on Feb. 20. People run outside at high noon, raise their hands in the air, and yell, "Hoodie Hoo!" It's set aside as a day to chase away winter blahs, and bring in spring. After all, everyone in the northern hemisphere is sick and tired of winter at this point and a little crazy being cooped up inside not seeing much sun. Also, if your neighbor sees you running around the yard, waving your hands and yelling, "Hoodie Hoo!," they'll probably think twice about stealing your Sunday paper.
There are a lot of "National" days listed in the archives as holidays, but did you know for something to actually become a National Day, it requires an act of Congress? I have it on good authority the current congress has only approved one National Day during this term, but "National Impede the Progress of a Nation Day" is geared up and ready to be printed on the calendar next year. (This may be a fabrication, as my D.C. sources are unreliable and possibly infected with rabies, at best.)
Although it's unclear exactly how to decorate for Dunce Day, Nov. 8 was the day to do it. Dunce Day is all about learning and celebrates the term dunce and dunce caps. The date marks the death (Nov. 8, 1308) of medieval scholar Duns Scotus of Duns, Scotland, inventor of the infamous dunce cap. Duns Scotus believed cone-shaped hats increased learning potential. He believed knowledge would flow from the point of the cap, down and into the head of the wearer, making the person smarter. (Hey, what do you expect? It was 1308: Wikipedia was in its infancy.) Thankfully, Duns went to his grave before his hat became a punishment, and left us a strange legacy to celebrate. If you're into that kind of thing.
Dec. 21 is marked on the calendar as Forefather's Day, and commemorates the pilgrims landing at Plymouth Rock in 1620. They left England for the New World to escape religious persecution. After a late fall start, the Mayflower set sail and landed at Plymouth Rock, Mass., just before Christmas.
Forefather's Day was first celebrated in Plymouth in 1769, when a group of descendants gathered to have a feast in honor of the pilgrims. This group shared a meal together, which included many native American delicacies.
Uh, wait a minute. Doesn't this sound familiar?
Research indicates this holiday is celebrated mostly in the New England states, so if you're from the Nor'east, you have the privilege of two Thanksgivings. But don't refer to them as such in Massachusetts, as the Boston Historical Society testily replied when asked the difference, "Two distinctly different holidays, celebrating two distinctly different things. Thanksgiving celebrates harvest and bounty while Forefather's Day celebrates the people brave enough to make the journey to the New World." So there. Now you know.
National Bird Day is celebrated on Jan. 5 and is not to be confused with just regular ol' Bird Day, which is May 4. Of course you could go all out and celebrate the trifecta of bird worship, capping your avian festivities off with International Migratory Bird Day, observed on the second Saturday in May. The only clear explanation of why in the heck there are three days a year set aside to celebrate birds is that people love birds. Birdwatching is the most popular of all hobbies. It's true — it says so on the internet, although I'd venture to say there are a lot of people who would disagree. Regardless, Bird Day is the oldest of the three days set aside to recognize birds. According to the U.S. Library of Congress, Bird Day was first observed on May 4, 1894, and was started by Superintendent Charles Almanzo Babcock. By 1910, Bird Day was widely celebrated, often in conjunction with Arbor Day. Mostly because birds and trees kind of go together, but also because they both promote conservation and stewardship of nature.
One last odd day of note might be National Handwriting Day, celebrated on Jan. 23 as an opportunity to reintroduce yourself to a pen or pencil and a piece of paper. In this day of computers, more and more information, notes, and letters are sent back and forth via a keyboard and cyberspace. National Handwriting Day was established by the Writing Instrument Manufacturers Association, way back in 1977, with a clear motive: to promote the use and purchase of pens, pencils and paper. The date was chosen because this is the birthday of John Hancock, the first person to sign the Declaration of Independence. Suggested ways to celebrate may be writing a note or letter to someone. I have a great idea – celebrate this year by sending a handwritten card to one of our soldiers in Afghanistan. I just so happen to have an address: Holiday Mail for Heroes, P.O. Box 5456, Capitol Heights, MD 20791-5456.
And while you're thinking about holidays, tell us what your favorite is here.