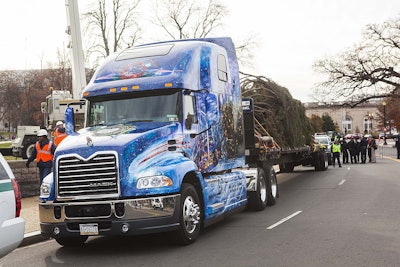 After completing a journey of more than 5,000 miles, the 2013 Capitol Christmas Tree was lit in an official ceremony at the U.S. Capitol on Dec. 3. The tree traveled from the Colville National Forest in the state of Washington to the west lawn of the U.S. Capitol, making stops in communities across the country, including Nashville, Tenn., where Overdrive interviewed lead driver Duane Brusseau.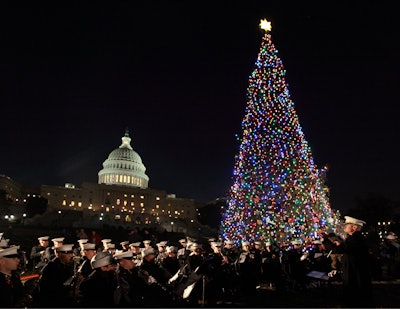 Speaker of the House John Boehner (R-Ohio) led the ceremony and flipped the switch with the help of six-year old Giovanni Gayner to light this year's Capitol Christmas Tree. The 88-foot Engelmann Spruce was hand-selected from a pool of candidate trees suggested by Colville National Forest employees by the U.S. Capitol Superintendent of Grounds Ted Bechtol.
Gayner is a student at Hofstetter School in Colville, Wash., and he also participated in making ornaments for the 2013 Capitol Christmas Tree. Gayner's name was drawn at random from the many children in Washington State who participated in this year' ornament making. More than 6,000 ornaments adorn the tree.
The national event was made more festive by musical performances from the Notebusters Children's Choir, the United States Marine Band (pictured above) and vocalist Lindsay Lawler.
The 80-year-old tree was delivered to the U.S. Capitol on Nov. 25, hauled behind a specially decorated Mack Pinnacle, and was lowered by crane into place on the west lawn where it will delight passersby throughout the holiday season.
As a sponsor of the tree tour, Mack provided two Pinnacle models for the cross-country tour. The trucks were equipped with the Mack mDrive automated manual transmission and the Mack Twin Y air suspension, allowing drivers to have an easy and fuel-efficient drive. These features were crucial as the trucks navigated through snow, mountains, arid conditions, busy cities and deserted highways on their way to Washington, D.C.