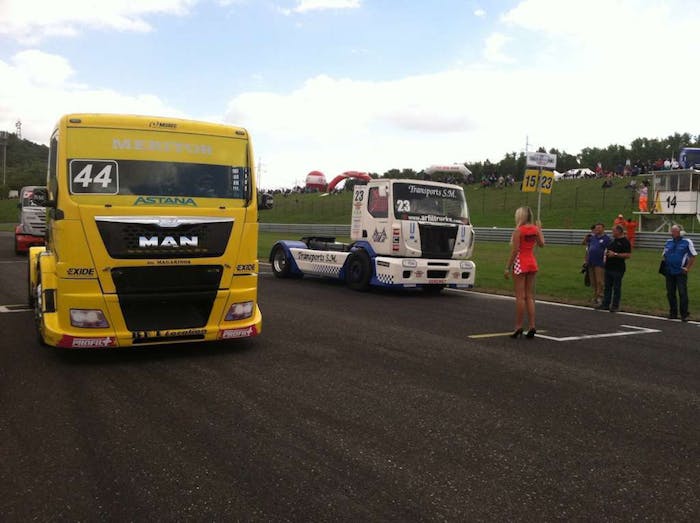 I'm on the ground in Le Mans, France, this weekend to catch the European truck racing finale in the FIA series.
The event is expected to host tens of thousands of spectators, along with dozens of show trucks and, of course, 100-mph action on the world famous Le Mans track.
The event is much like those that will be coming to the U.S. next year in the ChampTruck World Series. ChampTruck is set to hold 10 races in the U.S. in 2015 — including ones at the Charlotte Motor Speedway, Texas Motor Speedway, Las Vegas Motor Speedway, Pikes Peak Raceway and more.
The races in the U.S. will be similar to those in Europe, and much like the one I'm covering in Le Mans this weekend.
Like the Le Mans event this weekend, the U.S. events will feature several half-hour Class 8 truck races, along with car races, show truck competition and more. The race weekends will be multi-faceted and feature a variety of entertainment options, with the truck races anchoring the whole thing, said ChampTruck reps at a press event at the Great American Trucking Show in August.
Throughout this weekend, I'll be posting videos, photos and more from the Euro finale here in Le Mans. Check OverdriveOnline.com this weekend for more, and follow me on Twitter (@trucknewsjj) to catch some live tweeting from the race.
I had the chance last year to attend an FIA series race in Most, Czech Republic, and to ride along for a few laps during warm-ups.
Below are videos from both my ride-along and sites and sounds from the races that weekend:
[youtube 1GFvwU0bjPE nolink]
[youtube GDlZx8XvjzE nolink]