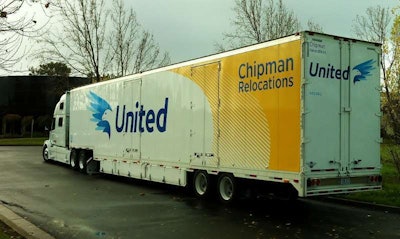 Regular readers will recall Chipman Relocations dispatcher Tina Pastore's "Driver's night before Christmas" salute from year 2012 — a poem taking off from the classic that she commonly sent around to owner-operators leased with the Fairfield, Calif., United Van Lines agent.
This year, she came back with a new one, giving credit for its origins to fellow UVL agent Nilson Van and Storage "out of Fayetteville, N.C.," she says. "I just changed some words to make it for Unigroup [UVL and Mayflower]."
Home for Christmas yet, operators? Enjoy…
Twas the night before Christmas, and inside the truck
Santa was loading and sorta got stuck
The tiers were built up, and bars were in place
But Santa's little helpers got up in his face.
"This is stupid", they cried, "There's too much to handle.
"When it comes to delveries, we can't hold a candle
to Unigroup, their drivers and crews
They're the best in the business" (but that wasn't news).
"Call in some help", the elves mumbled and groaned,
"We want to be done so we can go home."
"Call Customer Service, and bring in some Sales
"So we can tell them our sad little tales."
Santa was shocked and sat deep in thought
The elves were right that they were overwrought
With toy making, truck loading, and midnight PAD dates
And the stress of Christmas, not being late.
So Santa called Unigroup and set up the booking
For Christmas Eve deliveries–but not while we're looking.
Delivery is required when the consignee's asleep
And special arrangements are made so no one can peep.
Wrapping paper with colors of white, yellow, or blue,
Are Santa's subtle reminder to me and to you
That he always has help bringing Christmas each year
From the Unigroup family, who spread Christmas cheer.
Admin and sales, customer service, and such
The drivers, and helpers, and Operations' fine touch,
Revenue clerks and adjusters all help him out,
With nary a whimper, a groan or a shout.
"We thank you kindly" said Santa, with a smile on his face
"You help spread joy all over the place.
"We all need some help at this time of year,
"So to the Unigroup family, my best Christmas Cheer."