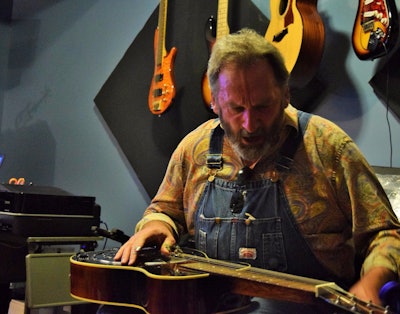 Indiana-based trucker Paul Marhoefer has wrapped up recording for his forthcoming "Old Black Epiphone" record, due out next month. The first part of the sessions — documented in the Overdrive Radio podcast above — happened with Donnie Gullett and company at Muscle Shoals Music in Tuscumbia, Ala., the balance of the tracks Marhoefer recorded in Indiana. The CD is currently under a pre-order in effort to assist in raising the funds necessary to bring the project to full fruition.
Ten percent of each purchase will go to Truckers Final Mile, which Marhoefer calls a "highly rated charity dedicated to bringing truckers home after a serious accident." Marhoefer is well mindful of the financial turmoil that ensued in his family in the aftermath of his own multi-trauma crash, which inspired the "God and God Alone" track included on the new album and released originally here at Overdrive late last year. Truckers Final Mile is an organization "near and dear" to his heart, he adds.
If you're unfamiliar with Marhoefer's distinctively soulful brand of roots music, combining elements of country blues, traditional country and folk and often exploring trucking themes, hear several tracks from both recorded and live performances at the head of our Music to Truck By playlist below. Marhoefer was a finalist in the 2015 edition of the Overdrive/Red Eye Radio Trucker Talent Search competition attendant to the Great American Trucking Show.
Pre-orders of the "Old Black Epiphone" CD, all of which will come autographed by the artist, can be made via Marhoefer's website.