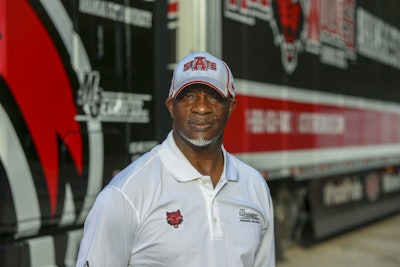 Johnny Harris, a 23-year veteran of the trucking industry, gets to spend some of his weekends in the fall at various college football stadiums around the country – one of several perks of his gig hauling Arkansas State University's football equipment.
Harris drives for Jonesboro, Arkansas-based MC Express hauling van freight across the country, but during the fall, he cuts his normal work week a day or two short to switch trucks and haul for the football team. The fleet is contracted with the university to haul the team's pads, helmets, jerseys and other equipment for road games.
"After I come back off the road from a game, I jump back in my truck and go back to doing my normal job," Harris says. "If it's a short run, I come in Thursday and leave out Friday, or if it's a longer run, I take a couple days at the end of the week. I work my normal job during the week, then moving the football equipment just completes my week."
This week, Harris and the Arkansas State Red Wolves are in Tuscaloosa, Alabama, (where Overdrive's parent company Randall-Reilly is headquartered) to take on the top-ranked team in college football – the Alabama Crimson Tide.
Harris, who has been hauling for the team for about 10 years, says being the driver to haul the team's equipment gives him an inside view of college football. He gets field access to the games and is allowed to be in the locker room before and after games and during halftime. He says another perk he enjoys is getting put up in the team hotel when on the road.
"The job is fulfilling," Harris says. "I get to deal with the players and the staff. You get to move around to the different schools and see what goes on behind the scenes. I can walk in at halftime and go in with the team and listen to what the coach says to them, then when they get ready to go back out there, I get to be a cheerleader for them."