Trucking news and briefs for Thursday, Sept. 30, 2021:
Landstar owner-op wins new rig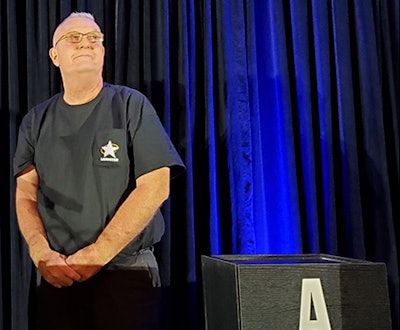 Landstar System owner-operator Mike Lamb won a new 2022 Kenworth T680 as part of the 2021 Landstar Deliver to Win Truck Giveaway, sponsored by Comdata.
Lamb, of Joshua, Texas, said winning the new truck couldn't have come at a better time.
"The timing of this couldn't be more perfect," he said. "I'm close to paying off my current truck and have been planning to expand my business with a second truck and driver. Now I can do that with two fully paid-for trucks. And I am really looking forward to the automatic transmission. The reality of it all is still sinking in. I am so thankful to Landstar, Comdata and everyone involved who made this happen."
Lamb, whose regular route runs between Dallas-Ft. Worth and Laredo, Texas, was one of five finalists randomly selected for the drawing from the eligible owner-operators leased to Landstar. The other finalists were:
Daryl K. Batty from Gadsden, Alabama
Tremayne Bland from Charlotte, North Carolina
Arthur Brown from Killeen, Texas
Jeff Mikel from Cleveland, Tennessee
The winner was determined by each of the finalists selecting a single box among five boxes, one of which indicated the recipient of a new truck.
The Concord blue Kenworth Lamb won features a 455-hp Paccar MX engine, front and rear disc brakes, Bendix Wingman Fusion Driver Assistance system and a 76-inch high-roof sleeper.
Throughout the year, all eligible owner-operators leased to Landstar automatically earn entries in the Deliver to Win Truck Giveaway contest by delivering loads safely during the contest period. They also have opportunities to earn additional entries, including monthly contests held via DeliverToWin.com. After the contest period ends, all entries are pooled, and finalists are selected by a computerized random number generator.
[Related: Fifth time's a charm for owner-operator Bryan Smith, who bags the big prize from TCA/Overdrive]
Loadsmart pitches 'supply-led' matching of pairs trucks to loads
Loadsmart's new Flatbed Messenger platform is what the company calls "an automated supply-led" load matching engine that pairs capacity and price to a load, "instead of the reverse," according to the company. It combines Loadsmart's advanced algorithms with dedicated capacity from The Home Depot company to help other shippers find flatbed capacity at lower rates.
So-called "backhauls" in the flatbed segment, the company said, typically require two customers – one for each direction. As a result, fleets that are dedicated to one customer are often plagued with empty miles. Flatbed Messenger feeds the truck's location, its price, and its destination into algorithms that match the information to a load that needs moving.
Shippers thus access flatbed haulers previously earmarked for a dedicated shipper. Carriers in dedicated fleets fill return trips that might otherwise be empty, and reduce deadhead miles. The system, when effective, thus reduces emissions, improving sustainability outcomes, the company says.
This kind of "automated supply-led booking," said Loadsmart co-founder Felipe Capella, "doesn't exist at scale today, not for lack of interest, but because of feasibility challenges. In order to begin with capacity instead of a shipment, the broker's AI system must know exactly where a truck will be, empty/full status, driver hours-of-service, the price that is needed to move it, and where it wants to go. Through our work with a forward-thinking shipper like The Home Depot, we've been able to implement this novel approach that makes dedicated fleets more efficient via technology while greatly reducing risk."
Home Depot and Loadsmart worked closely on the concept, design framework and rollout of Flatbed Messenger, Loadsmart said.
Home Depot has invited select vendors and carrier partners to participate in the service. Flatbed carriers have been onboarding since the announcement was first made at The Home Depot Carrier Summit earlier this year and are already being matched to a select group of shippers' flatbed loads.
Washington state extends truck parking survey deadline
The Washington State Legislature is seeking feedback from the trucking industry, especially truck drivers, on truck parking issues and strategies as part of a Truck Parking Action Plan for Washington state.
The legislature says truck drivers' firsthand knowledge will help the lawmakers better understand the current truck parking issues and create strategies to address near- and long-term truck parking needs.
The survey is available here and will be open through Oct. 3. It was previously set to close Sept. 30.
FMCSA extends HOS waiver for steel company's haulers
The Federal Motor Carrier Safety Administration has renewed a waiver previously granted to Cleveland-Cliffs Steel, formerly ArcelorMittal Indiana Harbor, from certain hours-of-service and cargo securement rules and requests public comment on the renewal.
The renewal of the exemption allows Cliffs' employee-drivers with commercial driver's licenses, who transport steel coils a fraction of a mile between their production and shipping locations on public roads, to continue to work up to 16 hours per day, and to operate with less than 10 consecutive hours off duty between work shifts.
The renewal of the exemption also allows Cliffs to use metal coil carriers that do not meet the ''heavy hauler trailer'' definition, restrictions on the height of rear side marker lamps, tire loading restrictions, and the commodity-specific cargo securement requirements for metal coils.
FMCSA says it has concluded that granting the request for a renewal of the exemption will likely maintain a level of safety that is equivalent to or greater than the level of safety achieved through compliance with the specific regulatory requirements.
The agency is requesting comments on the Cliff's request for a renewal of the exemption, which can be made here through Nov. 1. Specifically, FMCSA is asking for comments from parties with data concerning the safety record of Cliffs' steel coil drivers and their respective trucks.
[Related: The big reveal: Prize interior renovation | More on COVID hours waiver]